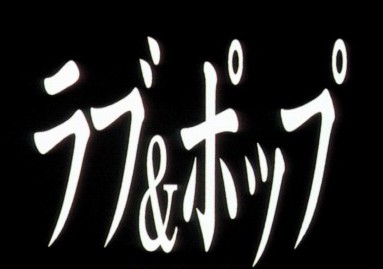 Love and Pop
directed by Hideaki Anno
Japan 1998

"As for the film, I'm sure Shunji Iwai must like it a lot, as I can see it being an inspiration for LILY CHOU-CHOU NO SUBETE, in particular the Tsuda Shiori story. He even used the exact same Debussy piece twice! And of course he later went on to work with Hideaki Anno on SHIKI-JITSU, which is finally coming out on DVD in 2003. Unfortunately there are no English subtitles."
Jeroen
Japanese site English site King Records Website Tadanobu Asano Interview
DVD REVIEW: KING Records Region 2 - NTSC
DVD Box Cover

Misc. Film Details

Click to enlarge

Cast and Crew

Directed by
Hideaki Anno

Writing credits :
Hideaki Anno
Akio Satsukawa

Produced by
Toshimichi Otsuki

Original Music by
Shinkichi Mitsumune

Cinematography by
Takahide Shibanushi

Tadanobu Asano .... Captain XX
Megumi Hayashibara .... Voice
Akira Ishida (I) .... Voice
Kirari .... Chisa Noda
Hirono Kudo .... Nao Yokoi


Package Inserts

Click each to enlarge

DVD Bitrate:

NOTE: The Vertical axis represents the bits transferred per second. The Horizontal is the time in minutes.

Features

Released by King Records
Region 2, Japan
NTSC, color
110 min 16 seconds
Release Date:

2000/01/01



Original Aspect Ratio 1.85:1 and 1.33:1, always 16:9 enhanced

Film-sourced
Average bit rate: 6.53 mbps
Japanese Dolby Digital 2.0 (192 kbps)
No subtitles

extras:
- 11 trailers/tv-spots
- 2 making-of documentaries (17 and 28 minutes)

Click the logo to order from:

Comments:

Visually the film is maximum eye candy, with every shot being highly original and beautiful and real. Shot on camcorders, switching between 16:9 and 4:3 all the time. Sometimes even the 4:3 picture switches between left and right side of the 16:9 frame, or the picture is squeezed, distorted etc.

Picture of the DVD is really wonderful. Transferred from film with proper flags so it plays perfectly in weave mode on your htpc. Looking past the camcorder source material the picture is very natural and clear with very good detail and colors and not a trace of edge enhancement or excessive filtering. Perfect 0 ire black level with excellent shadow detail like the best Japanese DVD's. A king records release, but the extremely high picture quality is reminiscent of a Norman's Nose release.

Note: Filmed using miniature digital cameras.

. out of Jeroen
---
Recommended Reading for Japanese Film Fans (CLICK COVERS or TITLES for more information)
The Japan Journals : 1947-2004,

by Donald Richie

The Midnight Eye Guide to New Japanese Film
by Tom Mes and Jasper Sharp

Kon Ichikawa (Cinematheque Ontario Monographs)

by James Quandt, Cinematheque Ontario

Shohei Imamura (Cinematheque Ontario Monographs, No. 1)
by James Quandt
Eros Plus Massacre: An Introduction to the Japanese New Wave Cinema (Midland Book, Mb 469)
by David Desser
The Films of Akira Kurosawa by Donald Ritchie

by Yasujiro Ozu, Kogo Noda, Donald Richie, Eric Klestadt

Ozu by Donald Richie

A Hundred Years of Japanese Film by Donald Richie
Check out more in "The Library"
---
DVD Menu's

---

Screen Captures
---

---