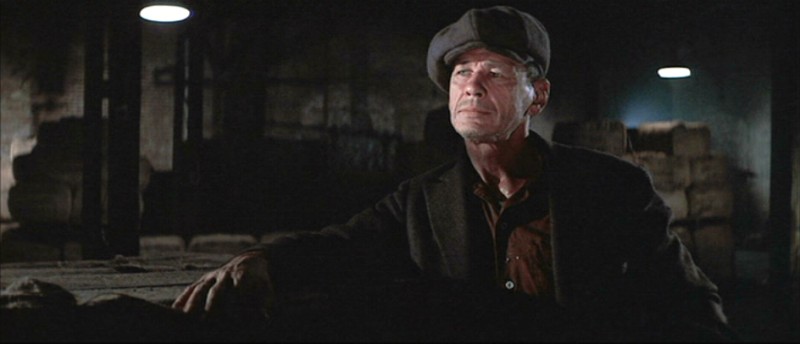 Hard Times
directed by Walter Hill
USA 1975
Review by Gary Tooze
Posters

Variations of an easily identifiable machismo genre have developed in cinema over the past 30 years inherently adhering to male sensibilities. The rise of movies with excessive guns and explosions, male heroes often defeating despicable villains or strongly developed anti-heroes while maintaining an underpinning of chivalrous grandeur and silent virtue became extremely prevalent during the 70's and 80's. Films in this canon of male dominated films (both the characters and fans) come across as relatively two-dimensional. Buried amongst this brand of cinema, usually short on plot and long on violence, are a few "hidden gems" adhering to a strict code of quiet and powerful iconoclastic masculine characters. Not really dissimilar to the cowboys of the Wild West, but set in more modern, industrialized settings.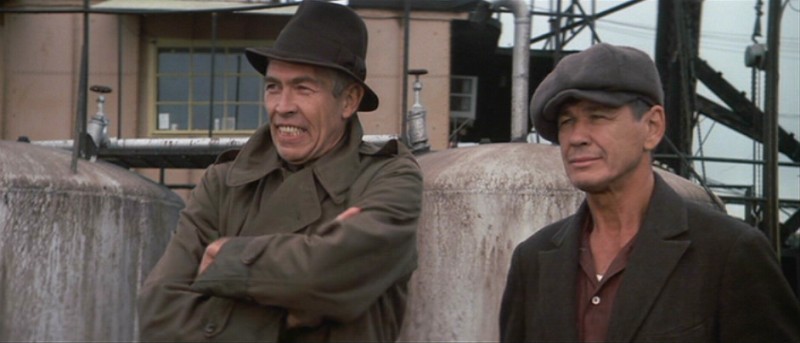 Such is 'Hard Times' set in New Orleans in 1933, directed and written by Walter Hill' (his direction debut) and starring Charles Bronson and James Coburn. This offering never professes to be more than it actually is. Male audiences can tend to enjoy things in distinctly black-and-white terms and this film caters to that demand. We are never confused by the film's intent with an uncelebrated central character of unknown past and future. Strong character actors, of which Strother Martin and Bronson both excel, develop almost mythical status as they weave into the plot. Most have only one name and the, never morally complex, hero always provides a noble path that dwells on the right side of morality, eventually having to utilizing some prodigious skill.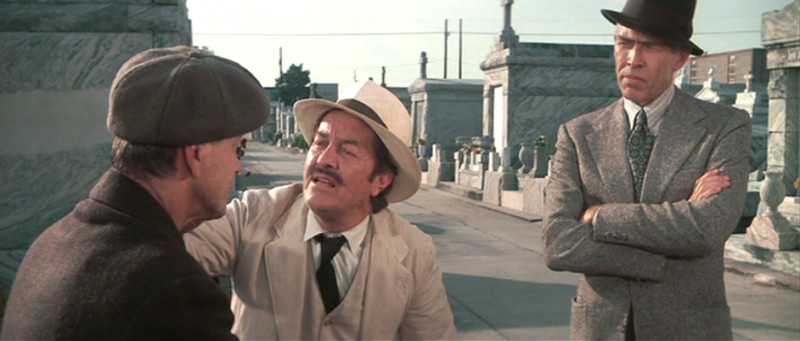 "Chaney" (Bronson) rolls into town having hopped the boxcar of a freight train appearing as one of many affected by the great depression. His grim, chiseled and weathered face peeks through baggy, hobo-like clothing. While wandering the streets he stumbles into witnessing a bare-knuckle boxing fight complete with shirtless bruisers brandishing hardened muscles, a crowd of shouting blue-collar spectator gamblers and suit and tie manager/bookies controlling the wagering. The surrounding economic circumstance has evolved this sub-culture of those trying to survive at any cost, and those with the edge to achieve that goal. Mix in our male-bonded heroes with some organized criminals and a penultimate confrontation with a bare-knuckle ringer from Chicago and the final scene is set.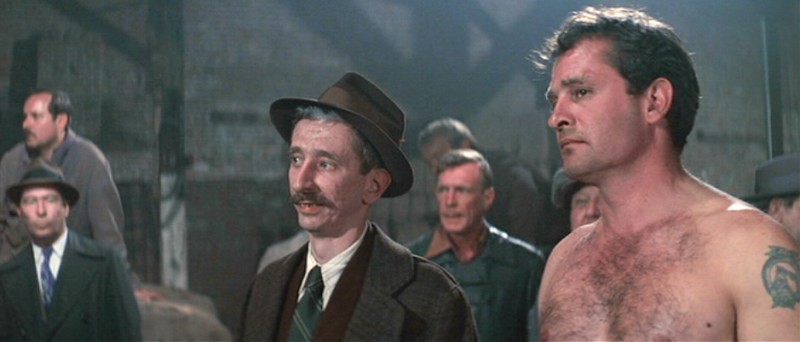 The fist' cuffs violence throughout the film is not excessive but rather adequately choreographed, well staged and nicely framed by Hill. Aptly enough the only female character in the film, played by Jill Ireland, is a hard-hearted mercenary product of the times, effectively removing any sentimentality that might have reared its unwelcome head.
'Hard Times' tells a simple tale imbued with a mythic grandeur and has its appeal with perhaps Bronson's most fitting role, Strother Martin who seemingly wrote the book on character acting and a somewhat awkward and heavy-handed Coburn, who has been better in my opinion. My only other complaint – I thought the title sequences were poorly chosen: a kind of bubble font that did not suit the tone and mood of this film at all. (NOTE: That's about as picky as I can get!)

out of

.

DVD Review: Columbia Tri-Star Region 1

Film Reviews More Film Reviews DVD Reviews

DVD Menus

Released on DVD May 22nd, 2001 "Hard Times" is presented in both Pan and Scan (opposite side) and letterboxed at 2.35:1 16x9 enhanced which has great contrast and is quite sharp. The video exhibits excellent vertical and horizontal resolution for sharp and finely detailed images. Color fidelity is very natural with accurate fleshtones and deep strong blacks. This DVD looks great. There is minute instances of hazy darkness in the backgrounds but this is the manner in which director Hill shot it. The audio is in English (Dolby Digital 2.0) or dubbed Portuguese (Dolby Digital 2.0), and is very good although never tested by the soundtrack of the film. There are optional English, Spanish, Chinese, Korean, Portuguese and Thai subtitles included.

In the extras dept., Columbia Tri-Star have not included a lot - 28 chapter stops and two trailers - one for 'Hard Times' and one for another Bronson film (that looks horrible) called 'The Stone Killer'. I like this DVD and the film. Both unpretentiously honest and simple. A commentary is not necessary and might spoil the clandestine quality of the film. When the mood suits, this fills the bill more than adequately.

out of

Review by Gary Tooze