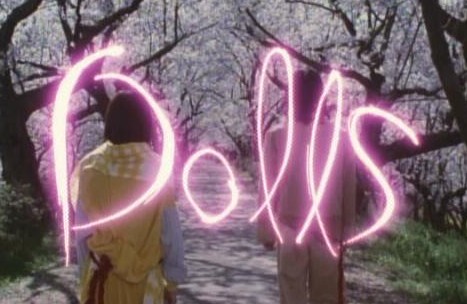 directed by Takeshi Kitano
Japan 2002
Dolls is one of the most beautiful films ever to come out of Japan and one of the single most original pieces of art within cinema. Sadly, it was a huge flop at the box office in Japan and was ignored by the west. Not surprisingly really, as Dolls is conceptual in almost any aspect, which makes it very hard to approach unless you are familiar with the ideas behind Dolls and Kitano's motifs.
Kitano initially sat out to make a film with beautiful colors and about people who loved each other. But as the idea progressed, the project began involving the motifs of Chikamatsu, narrative elements of Bunraku theatre, Japanese symbolism and rituals, the seasons, color-coding – all to carry a single memory from Kitano's childhood. Kitano complicated matters further, by, as always, experimenting with new approaches to narrative structures and ellipses.
On the surface, Dolls is an allegory about love, with the typical Kitano motif of balance, here between giri (duty) and ninj˘ (passion). Below the surface, Dolls is a celebration of love, life, death, nature, examination of Chikamatsuian fatalism and shinj˘ versus Kitano's fatalism and much more.
With so much crammed into one film, it is hard not to be flawed, and Dolls is a flawed film, it would be wrong not to admit it; even Kitano is unhappy with the result. But it is hard to put the finger on any one thing and say, "this is why it fails". Perhaps it is so, because it doesn't fail. Perhaps we say it fails, because we are used to one form of Kitano and he wants to renew himself constantly. Perhaps we expect too much, perhaps we expected to little, perhaps a lot of things. But fact is, that regardless how flawed it is, regardless of all the perhaps', once one decipher its codes, it all comes together in something so beautiful, so overwhelming, that one can't do anything that to give in.
But how does one rate Dolls? Should I consider the casual viewer, who ignored and dismissed it? Should I approach in favor of those who will decode / have decoded it and thus is drawn to its sheer genius? Should film which demands dedication from its viewers be rated lower or higher than film that just entertains? It all comes down to the question, "How does one rate art?"
Where the casual viewer ignored and dismissed it, those decoding it can't seem to let it go and constantly return to marvel at its sheer genius. I decided not to rate it, but let what Tony Rayns wrote about Kitano, in Sight and Sound (6/03), end this brief review, as Dolls for better and worse is a piece of art.
"The sheer idiosyncrasy of the film bespeaks the singularity of the position Kitano has carved for himself as a director… He makes the best he's able to of each project that comes his way, greeting successes with self-deprecatory modesty and shrugging off failures while gearing up for the next one."
Posters
Theatrical Release: September 5th, 2002 - Venice Film Festival
Reviews More Reviews DVD Reviews
DVD Review: Panorama Entertainment - Region 3 - NTSC
DVD Box Cover

Front + Back

CLICK to order from:

Distribution
Panorama Entertainment Region 3 - NTSC
Runtime
1:53:20
Video
1.85:1 Original Aspect Ratio
Average Bitrate: 9.1 mb/s
NTSC 720x480 29.97 f/s
Bitrate:

Audio

Japanese (Dolby Digital 5.1), Chinese (Mandarin) (Dolby Digital 5.1)

Subtitles

Chinese (traditional), English, None

Features

Release Information:
Studio: Panorama (Hong Kong)

Aspect Ratio:
Original aspect Ratio 1.85:1 widescreen NON-anamorphic

DVD Release Date: September 8th, 2003
Keep Case
Chapters: 12

Edition Details:


None

Comments:

Being the discount version of Dolls, the picture is quiet beautiful. The colors are saturated and rich, but it lacks the crisp depth of anamorphic enhancement. I do only dare dream of how beautiful either the Japanese Bandai or the English Artificial Eye editions look
---
Recommended Reading for Japanese Film Fans (CLICK COVERS or TITLES for more information)
The Japan Journals : 1947-2004,

by Donald Richie

The Midnight Eye Guide to New Japanese Film
by Tom Mes and Jasper Sharp

Kon Ichikawa (Cinematheque Ontario Monographs)

by James Quandt, Cinematheque Ontario

Shohei Imamura (Cinematheque Ontario Monographs, No. 1)
by James Quandt
Eros Plus Massacre: An Introduction to the Japanese New Wave Cinema (Midland Book, Mb 469)
by David Desser
The Films of Akira Kurosawa by Donald Ritchie

by Yasujiro Ozu, Kogo Noda, Donald Richie, Eric Klestadt

Ozu by Donald Ritchie

A Hundred Years of Japanese Film by Donald Richie
Check out more in "The Library"
---



DVD Menus

---
Subtitle Sample
Screen Captures
---
---