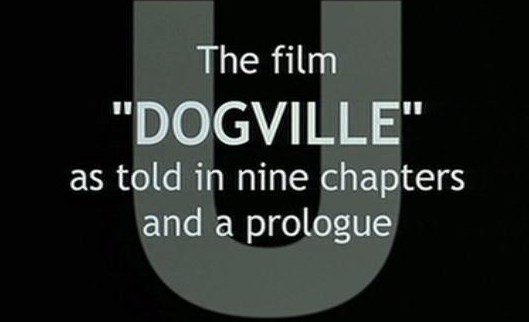 directed by Lars von Trier
Denmark 2003
For twenty years Lars von Trier has attacked the conventions of cinema and film, continued where Godard and Cassavates left off and created, time and time again, some of the most original and beautiful films. With Dogville he has created his perhaps best film to date. Inspired by the song "Piraten Jenny" by Bertold Brecht and Kurt Weill, and the desire to bring back freedom and fun in both acting and directing, Lars von Trier has created a mutation of "Brechtian Theater", demonstrating not only how potent a simple story can be, but also forcing us, the viewers, to participate. With typical disrespect for rules, yet always faithful to his codex that a film should annoy like a stone in the shoe, Lars von Trier appears to mock the very institution and art he is considered a master of. But that is what we expect of him, that is what makes him so unique, that is why we hate and love him.
Dogville shows a maturing of Lars von Trier and his approach to his motifs, developing the "golden heart" into a "human heart", both giving and taking. As the previous heroines of Lars von Trier, Grace too is naïve; or so it seems. But where the heroines remain naïve despite their actions in the "golden heart" trilogy (Breaking the Waves, The Idiots and Dancer in the Dark), Grace marks a change, as we mistake kindness of the heart with naivety. Dogville is not about loss of innocence, it is about loss of love and kindness. How greedy men are to exploit those willing to help.
With Dogville, the first film in his "U S A" trilogy, Lars von Trier has created a perverse allegory about the fragility and strength alike of the human spirit and how corruptible it is when exposed to power. A masterpiece.

out of

Posters ( Click to enlarge )
Theatrical Release: May 19th, 2003 - Cannes Film Festival
Reviews More Reviews DVD Reviews Official site
DVD Review: Nordisk Films - Region 2 - PAL
DVD Box Cover

CLICK to order from:

Distribution
Nordisk Region 2 - PAL
Runtime
2:50:15
Video
2.35:1 Original Aspect Ratio
Average Bitrate: 5.81 mb/s (Disc 2 - 5.15mb/s)
PAL 720x576 25.00 f/s
Bitrate:

Audio
English (Dolby Digital 2.0 Stereo), English (Dolby Digital 5.1), DUB: French (Dolby Digital 5.1)
Subtitles
Danish, English, French, None
Features
Release Information:
Studio: Nordisk Films

Aspect Ratio:
Widescreen anamorphic - 2.35:1


Chapters:
1 - Prologue
2 - Tom hears gunshots and meets Grace
3 - Tom introduces Grace
4 - Grace tries to help the townspeople
5 - Grace's first day of hard work
6 - Grace interferes with the townspeople secrets
7 - The townspeople are becoming Grace's future
8 - Grace spreads joy in Dogville
9 - Law enforcement comes to Dogville
10 - The day of the celebration
11 - Grace becomes more costly for the townspeople
12 - Dogville's true face
13 - Rape
14 - Everybody turns against Grace
15 - Grace escapes from Dogville
16 - Exploration
17 - Tom wants to make love to Grace
18 - The gangsters come to Dogville
19 - The final illustration
20 - Credits

DVD Release Date: November 25th, 2003
Keep Case
Chapters: 20

Edition Details:

DISC 1

Selected Commentary (Duration: 123:10)
by Lars von Trier and Anthony Dod Mantle (English)
- Tom meets Grace (27:05)
- Grace follows Tom's plan (14:52)
- Fourth of July after all (8:36)
- Dogville bares its teet (8:23)
- The last illustration (64:11)
Trailer

DISC 2
Running Time: 198 minutes

- Dogville Confessions (53 minutes)
Documentary by Sami Saif who followed LvT, Kidman and Skarsgård around and interviewed them.
- Trier, Kidman og Cannes (23 minutes)
- The Dogville Test (6 minutes)
A test of the setting with actors Nikolai Lee Kaas and Sidse Babett Knudsen. Audio Commetary by LvT and Dod Mantle
- Interviews with... Nicole Kidman (6 minutes), Nicole Kidman (4 minutes), Stellan Skarsgård (7 minutes), Anders Refn (6 minutes), LvT (20/05/03 Cannes 5 minutes), LvT (23/05/03 Cannes 5 minutes)
- Deleted Scenes from Dogville Confessions (18 minutes)
- Visual effects (8 minutes) (with audio commentary by Peter Hjort)
- Dogville Visuals (Poster, Artworks, Storyboards)
- Pressconference Trollhättan (10 minutes)
- Pressconference Cannes (10 minutes)
- Lars von Trier meets the Danish Press (3 minutes)

Comments:

Filmed on high definition tape, Dogville is not a film with super picture, but it still looks damn good. It is also surprising how good the sound is, considering the huge soundstage and what problems that gave to the recording. But despite this not being a reference quality disc in sound and vision, it has everything else one would dream of.

To begin with there is an audio commentary, where Lars von Trier, in his typical laid back smiling way, reflects and discusses of the process of directing and creating Dogville with cinematographer Anthony Dod Mantle. It is selective, only covering the central elements, but it still goes on for a good two hours and is very insightful.

The additional material disc is a gem. It starts out with the documentary Dogville Confessions, allowing us a rare glimpse at how Lars von Trier works and about the direction and staging of Dogville. It continues with several interviews, deleted scenes and press conferences. The rarest gem is The Dogville Test, where the entire concept of Dogville is test filmed with Danish actors as stand ins.

The only negative mark goes to the use of subtitles. For instance, there are only English subtitles when the language spoken isn't English. The continuity in understanding what is being said is a bit interrupted. Clearly a cost saving decision, which doesn't suit nor share the care with which the DVD is produced.

In my opinion this is, not only the best film, but also, one of the greatest discs of the year. The DVD is a labor of love. Thank you Lars. Thank you Diana.
---
DVD Menus
---
Subtitle Sample
---
---