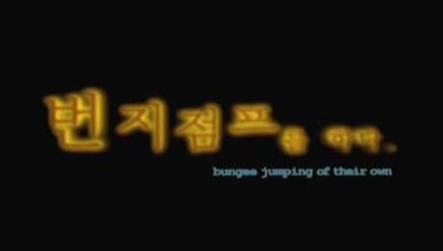 Bungee Jumping Of Their Own
(aka 'Beonjijeonpeureul hada')
directed by Dai-Seung Kim
South Korea 2001

"The story begins on a rainy afternoon with So In-wu (Lee Byeong-Heon, JSA:Joint Security Area) meeting In Tae-hae (Lee Eun-Ju) by chance and offering her shelter under his umbrella while they wait for her bus. 
A romance with a twist ending. The film reminds me of Ditto in that it will please the teen market ... more so than films from the likes of Hur Jin Ho (Christmas in August and One Fine Spring Day). This doesn't mean there is nothing for the mature viewer though ... far from it ...

The romance between the leads work and I enjoyed the character introductions during the 1st 30 mins of the movie but interest in the film dips during the middle section where the director (Kim Dae-Seung his feature debut) tries to introduce the 3rd character in the movie ... however the final moments of the film is some of the most daring I've seen for a romance and is worth sitting through the middle section just to see.

Its another excellent Korean romance!."

Recommended Books on Korean Cinema (CLICK COVERS or TITLES for more information)
DVD REVIEW: Atlanta Contents Group Region 3
DVD Box Cover

Distribution
Atlanta Region 3 - NTSC
Runtime
1:00:00 minutes
Video
1.85:1.00 Letterboxed WideScreen
NTSC 720x480 29.97 f/s
Audio
Korean (Dolby Digital 5.1 Surround), Korean (Dolby Digital 2.0)
Subtitles
Korean, Japanese, Chinese and English (removable)
Features

Bungee Jumping Of Their Own (2000)

Released by Atlanta

Korean R3 (R0) - DVD-9 Korean

NTSC Colour

Extras (no Subs)

- Cast and Director Bios

- Synopsis

- Scenario

- Gallery (host of pictures inc. backstage)

- Trailer of film and of Fighters Blues

- Music Video

- Making Of Film (13mins)

Region Code: ALL NTSC
Subtitles: English, Japanese, Chinese
Aspect Ratio: 1.85:1 Widescreen
Audio: Dolby Digital 5.1ch/ 2.0ch
Company: Atlanta Contents Group

Comments:

Good clean sharp picture with bright colours even though it is not 16x9 enhance. A few flicks and flecks abound but only a few.

The DD5.1 sound is clear and makes good use of rears. I have no complaints about sound or picture.

out of

Kin Ho

Alternate Version:

VCD

Available:
---
DVD Menu
---
Screen Captures
---
---