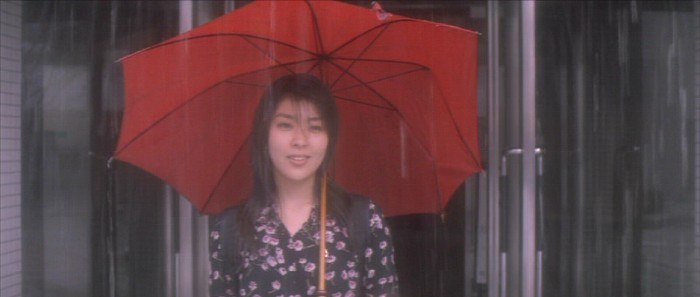 April Story
( aka 'Shigatsu monogatari' )
directed by Shunji Iwai
Japan 1998
"Simple and wonderful vision of unrequited love and typical Asian understated emotions. Iwai seems to have a great sense for this type of film and I look forward to much more of his work. I can't recommend it to all, but I know many in which I will. It leaves you aching for the continuation, yet sated that you know enough. Details are garnered not by obviousness, but by inference and general-isms. No two people would see exactly the same thing in this film, and that makes it unique and a worthwhile viewing experience."

VHS Cover, Promo Pics
Review Iawa Website Takako Matsu Official Fan Club
Saerom Corporation (Dawoori Entertainment) Region 0 - NTSC
DVD Box Cover

Order from:

Thinking of buying from YesAsia? CLICK HERE and use THIS UPDATED BEAVER PAGE to source their very best...

Distribution
Saerom Entertainment/SRE [A Korea-Based Distributor] Region 0 - NTSC
Runtime
1:06:56
Video
2.35:1 Widescreen anamorphic
Average Bitrate: 7.10 mb/s
NTSC 720x480 29.97 f/s

NOTE: The Vertical axis represents the bits transferred per second. The Horizontal is the time in minutes

Bitrate: Sareom

.

Audio
Japanese (Dolby Digital 5.1)
Subtitles
English, Korean, Japanese, None
Features
Region Code: ALL
Aspect Ratio: 2.35:1 anamorphic
Audio: Japanese, DTS 5.1, DD5.1
Company: SRE Corporation

Running Time: 67 min.


Special Features: Cast & Crew Info

Synopsis
Photos
Video Clips ( 3:00 )
Music Video ( 1:35 )
Trailers
TV Commercial (2:00 ) (note: special features are not subtitled)

Comments:

NOTE: These comments are about the R2 version which has an identical transfer to the R0 Korean.

Picture is extremely smooth and film-like with absolutely no edge enhancement or filtering artifacts. The film was shot with soft focus, but thanks to the perfect transfer the amount of detail in the picture is amazing. There's a scene on the campus early in the film where you can literally count the bricks of the out of focus building in the background. The pastel color palette is flawlessly reproduced. Black level is a little bit too high, but turning projector brightness down one click fixed that without affecting grayscale too much. Black level during the scene in the movie theater is much too high. Don't know what went wrong there, but i can't imagine it's a transfer error. As for the audio, it's just as perfect as the picture. I only listened to the dolby digital track, and it's very impressive. There's a scene in a cafeteria where the surround effects are so realistic that when you close your eyes you really are there. A band playing on campus again sounds like you are there, more convincing than most live concert DVD's in fact. Dialogue is always crystal clear and like the picture it has an effortlessly dynamic quality. out of

Jeroen

DVD Release Date: March 18th, 2002
Keep Case
Chapters: 16
---
DVD Menus
| | |
| --- | --- |
| | |
| | |
---
Screen Captures
Title
---
DVD Box Cover

Order from:

Distribution
Saerom Entertainment/SRE [A Korea-Based Distributor] Region 0 - NTSC
---

---





DONATIONS Keep DVDBeaver alive and advertisement free:
Mail cheques, money orders, cash to: or CLICK PayPal logo to donate!
Many Thanks...
Shunji Iwai's - April Story - Shigatsu monogatari - DVD Review Shunji Iwai April Story Shigatsu monogatari DVD Review Shunji Iwai April Story Shigatsu monogatari DVD Review Shunji Iwai April Story Shigatsu monogatari DVD Review Shunji Iwai April Story Shigatsu monogatari DVD Review Shunji Iwai April Story Shigatsu monogatari DVD Review Shunji Iwai April Story Shigatsu monogatari DVD Review Shunji Iwai April Story Shigatsu monogatari DVD Review Shunji Iwai April Story Shigatsu monogatari DVD Review Shunji Iwai April Story Shigatsu monogatari DVD Review Shunji Iwai April Story Shigatsu monogatari DVD Review Shunji Iwai's - April Story - Shigatsu monogatari - DVD Review Shunji Iwai April Story Shigatsu monogatari DVD Review Shunji Iwai April Story Shigatsu monogatari DVD Review Shunji Iwai April Story Shigatsu monogatari DVD Review Shunji Iwai April Story Shigatsu monogatari DVD Review Shunji Iwai April Story Shigatsu monogatari DVD Review Shunji Iwai April Story Shigatsu monogatari DVD Review Shunji Iwai April Story Shigatsu monogatari DVD Review Shunji Iwai April Story Shigatsu monogatari DVD Review Shunji Iwai April Story Shigatsu monogatari DVD Review Shunji Iwai April Story Shigatsu monogatari DVD Review Shunji Iwai's - April Story - Shigatsu monogatari - DVD Review Shunji Iwai April Story Shigatsu monogatari DVD Review Shunji Iwai April Story Shigatsu monogatari DVD Review Shunji Iwai April Story Shigatsu monogatari DVD Review Shunji Iwai April Story Shigatsu monogatari DVD Review Shunji Iwai April Story Shigatsu monogatari DVD Review Shunji Iwai April Story Shigatsu monogatari DVD Review Shunji Iwai April Story Shigatsu monogatari DVD Review Shunji Iwai April Story Shigatsu monogatari DVD Review Shunji Iwai April Story Shigatsu monogatari DVD Review Shunji Iwai April Story Shigatsu monogatari DVD Review Shunji Iwai's - April Story - Shigatsu monogatari - DVD Review Shunji Iwai April Story Shigatsu monogatari DVD Review Shunji Iwai April Story Shigatsu monogatari DVD Review Shunji Iwai April Story Shigatsu monogatari DVD Review Shunji Iwai April Story Shigatsu monogatari DVD Review Shunji Iwai April Story Shigatsu monogatari DVD Review Shunji Iwai April Story Shigatsu monogatari DVD Review Shunji Iwai April Story Shigatsu monogatari DVD Review Shunji Iwai April Story Shigatsu monogatari DVD Review Shunji Iwai April Story Shigatsu monogatari DVD Review Shunji Iwai April Story Shigatsu monogatari DVD Review Shunji Iwai's - April Story - Shigatsu monogatari - DVD Review Shunji Iwai April Story Shigatsu monogatari DVD Review Shunji Iwai April Story Shigatsu monogatari DVD Review Shunji Iwai April Story Shigatsu monogatari DVD Review Shunji Iwai April Story Shigatsu monogatari DVD Review Shunji Iwai April Story Shigatsu monogatari DVD Review Shunji Iwai April Story Shigatsu monogatari DVD Review Shunji Iwai April Story Shigatsu monogatari DVD Review Shunji Iwai April Story Shigatsu monogatari DVD Review Shunji Iwai April Story Shigatsu monogatari DVD Review Shunji Iwai April Story Shigatsu monogatari DVD Review Shunji Iwai's - April Story - Shigatsu monogatari - DVD Review Shunji Iwai April Story Shigatsu monogatari DVD Review Shunji Iwai April Story Shigatsu monogatari DVD Review Shunji Iwai April Story Shigatsu monogatari DVD Review Shunji Iwai April Story Shigatsu monogatari DVD Review Shunji Iwai April Story Shigatsu monogatari DVD Review Shunji Iwai April Story Shigatsu monogatari DVD Review Shunji Iwai April Story Shigatsu monogatari DVD Review Shunji Iwai April Story Shigatsu monogatari DVD Review Shunji Iwai April Story Shigatsu monogatari DVD Review Shunji Iwai April Story Shigatsu monogatari DVD Review Shunji Iwai's - April Story - Shigatsu monogatari - DVD Review Shunji Iwai April Story Shigatsu monogatari DVD Review Shunji Iwai April Story Shigatsu monogatari DVD Review Shunji Iwai April Story Shigatsu monogatari DVD Review Shunji Iwai April Story Shigatsu monogatari DVD Review Shunji Iwai April Story Shigatsu monogatari DVD Review Shunji Iwai April Story Shigatsu monogatari DVD Review Shunji Iwai April Story Shigatsu monogatari DVD Review Shunji Iwai April Story Shigatsu monogatari DVD Review Shunji Iwai April Story Shigatsu monogatari DVD Review Shunji Iwai April Story Shigatsu monogatari DVD Review Shunji Iwai's - April Story - Shigatsu monogatari - DVD Review Shunji Iwai April Story Shigatsu monogatari DVD Review Shunji Iwai April Story Shigatsu monogatari DVD Review Shunji Iwai April Story Shigatsu monogatari DVD Review Shunji Iwai April Story Shigatsu monogatari DVD Review Shunji Iwai April Story Shigatsu monogatari DVD Review Shunji Iwai April Story Shigatsu monogatari DVD Review Shunji Iwai April Story Shigatsu monogatari DVD Review Shunji Iwai April Story Shigatsu monogatari DVD Review Shunji Iwai April Story Shigatsu monogatari DVD Review Shunji Iwai April Story Shigatsu monogatari DVD Review Shunji Iwai's - April Story - Shigatsu monogatari - DVD Review Shunji Iwai April Story Shigatsu monogatari DVD Review Shunji Iwai April Story Shigatsu monogatari DVD Review Shunji Iwai April Story Shigatsu monogatari DVD Review Shunji Iwai April Story Shigatsu monogatari DVD Review Shunji Iwai April Story Shigatsu monogatari DVD Review Shunji Iwai April Story Shigatsu monogatari DVD Review Shunji Iwai April Story Shigatsu monogatari DVD Review Shunji Iwai April Story Shigatsu monogatari DVD Review Shunji Iwai April Story Shigatsu monogatari DVD Review Shunji Iwai April Story Shigatsu monogatari DVD Review Shunji Iwai's - April Story - Shigatsu monogatari - DVD Review Shunji Iwai April Story Shigatsu monogatari DVD Review Shunji Iwai April Story Shigatsu monogatari DVD Review Shunji Iwai April Story Shigatsu monogatari DVD Review Shunji Iwai April Story Shigatsu monogatari DVD Review Shunji Iwai April Story Shigatsu monogatari DVD Review Shunji Iwai April Story Shigatsu monogatari DVD Review Shunji Iwai April Story Shigatsu monogatari DVD Review Shunji Iwai April Story Shigatsu monogatari DVD Review Shunji Iwai April Story Shigatsu monogatari DVD Review Shunji Iwai April Story Shigatsu monogatari DVD Review Shunji Iwai's - April Story - Shigatsu monogatari - DVD Review Shunji Iwai April Story Shigatsu monogatari DVD Review Shunji Iwai April Story Shigatsu monogatari DVD Review Shunji Iwai April Story Shigatsu monogatari DVD Review Shunji Iwai April Story Shigatsu monogatari DVD Review Shunji Iwai April Story Shigatsu monogatari DVD Review Shunji Iwai April Story Shigatsu monogatari DVD Review Shunji Iwai April Story Shigatsu monogatari DVD Review Shunji Iwai April Story Shigatsu monogatari DVD Review Shunji Iwai April Story Shigatsu monogatari DVD Review Shunji Iwai April Story Shigatsu monogatari DVD Review