NOTE: The below Blu-ray and or 4K Ultra HD captures were taken directly from the disc but are limited by the computer display (see below) they are seen with.

ADDITION: Paramount 20th Anniversary - 3-disc - Region FREE -

4K Ultra HD

(May 2018):

DVDBeaver have over 5,000 Blu-ray reviews on this website and over 10,000 disc reviews in total. This is our first 4K Ultra HD review. I am thankful that it is Saving Private Ryan which is such an overwhelmingly impacting cinema experience.

The problem with reviews that use screen captures are standardization of the methodology used to obtain them - and while we have recently made an adjustment to improve representation in this area - both un-standardized, un-calibrated, computer monitors and a variety of home theatre viewing systems become a factor. This makes comparisons all the more important since the images are all viewed on the same monitor and the differences are apparent.

4K Ultra HD produces another significant issue - it is likely that the monitor you are seeing this review is not an HDR-compatible display (High Dynamic Range) where each pixel can be assigned with a wider and notably granular range of color and light.

So we have made a painstaking attempt to replicate the image of our 4K HDR - Dolby Vision system where applicable. Our adjustment is trying to simulate the same strong color scheme - we cannot - but it is definitely closer than the 4K UHD captures as viewed on a standard computer monitor. We have included both for those who are capable of seeing this review on a 4K Ultra HD display.

We are using an LG B6 65" 4K UHD HDR OLED TV display supporting both HDR & Dolby Vision: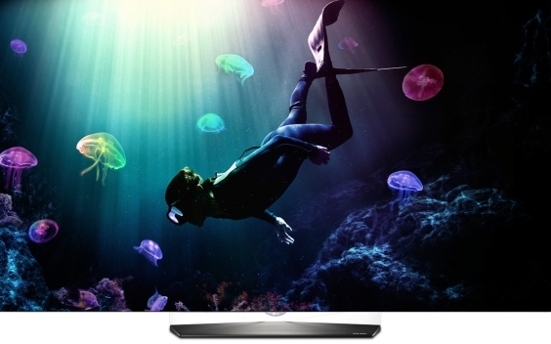 and an Oppo UDP-203 4K Ultra HD Blu-ray Disc Player with HDR & Dolby Vision (UHD, Blu-ray, 3D, DVD, DVD-Audio, SACD and CD).

But on your computer monitor we cannot due justice to the 4K Ultra HD image. After hours of attempts - we have come close. Before the world screams - our simulation captures are now standardized (for future reviews) and do not give a valid representation - yes, the 4K UHD is superior to our simulation.

We suggest using the native 4K Ultra HD captures to see the presentations grain texture, detail, sharpness and even framing BUT to use our simulated captures to get a general idea of the color improvement and the film's intended saturated appearance.

The captures we have taken are native resolution: 3,840 by 2,160 pixels which you can see when you click on them. The resolution in 4K movie theaters is marginally higher at 4,096 by 2,160 pixels. To appreciate the advancement mathematically it is 4X the number of pixels on a 1080p Blu-ray display, and almost 24X times the resolution of your old SD Sony Trinitron tube television (standard definition).

As for Saving Private Ryan with Dolby Vision - I will state that after viewing 25 UHD titles - both Colin and I feel the advancement over 1080P, in representing film image quality, is superior to that of Blu-ray over DVD. Yes - it is.

Saving Private Ryan may be in the top five 4K Ultra HD titles we have seen - and there are many that have blown me away (prepare for upcoming The Bridge on the River Kwai: 60th Anniversary 4K Ultra HD comparison to Blu-ray). Whether I stand 15 inches from my display or 15 feet this looks so impressive - wonderfully rich grain - a saturated image (where intended) and it looks just as good as the 35mm print I saw in the theatre. Actually probably better... I would grade it 10/10.

It is on a 100 Gig disc (taking up 97 Gig with over almost 93 Gig for the film itself!) The bitrate is about double that of the Blu-ray.

NOTE: The 4K Ultra HD visuals are slightly opened-up in 1.78:1 where the Blu-ray was 1.85:1. So you see more information in the frame of the 4K Ultra HD.

As for the audio - it refuses to take a backseat to the video. The menus screen describes the Atmos option as: "The audio presentation is mixed specifically for Dolby Atmos enabled receivers and speaker configurations to produce full, multidimensional sound without channel restrictions in the home - even overhead. Dolby Atmos is compatible with current generation Ultra HD Blu-ray players. Also select this option for other speaker configurations. For Dolby Atmos Playback, set your Ultra HD Blu-ray player to bitstream out and disable secondary audio."

For Atmos my system recognizes it as TrueHD 7.1, but from Wikipedia: "Because of limited bandwidth and lack of processing power, Atmos in home theaters is not a real-time mix rendered the same way as in cinemas. The substream is added to Dolby TrueHD or Dolby Digital Plus. This substream only represents a losslessly encoded fully object-based mix. This substream does not include all 128 objects separated. This is not a matrix-encoded channel, but a spatially-encoded digital channel. Atmos in home theaters can support 24.1.10 channel, but it is not an object-based real-time rendering. Filmmakers need to remix and render the TrueHD and Dolby Digital Plus soundtracks with Dolby Media Producer."

Essentially, it sounds amazing - b

ullets sharply careen against metal, bomb bursts explode with dominant bass and the John Williams majestic score never sounded so noble or compelling. The 4K Ultra HD includes an option of an English 5.1 Dolby Digital mix and English descriptive audio as well as a number of foreign-language DUBs and it has optional subtitles. Like all 4K Ultra HD discs - it is Region FREE.

The 3-disc 4K Ultra HD package has the two Blu-rays from 2010 with all their extras and the feature, on its own disc in 1080P. The DVD had the Message from Steven Spielberg which is replaced by the short introduction - as it was on the Blu-ray.

Final tally - this may be the best image I have ever seen on a home theatre, although I still believe that The Bridge on the River Kwai: 60th Anniversary 4K Ultra HD is the biggest advancement over the previous Blu-ray. I think this Saving Private Ryan package should tip the scales for many to jump on board the 4K Ultra HD train (be sure to get Dolby Vision!) It has our very highest recommendation!

***

NOTE:

ADDITION: Paramount - Region FREE Blu-ray - April 2010: This Blu-ray transfer seems prime for debate in the Forums on whether it is more accurate to theatrical... or manipulated. I believe the former. Well, I checked it on two systems doing two sets of captures - as well as toggling back and forth on my HDTV between two players (DVD and Blu-ray). In certain scenes the new 1080P rendering appears to have lighter, and probably more accurate contrast. Like many, I saw this in the theater but my memory is not so precise in regards to the numerous cinematographic techniques utilized in the film. There is heavy grain in spots, flared brightness, damned colors, intentional speckles to vérité war photography and other parts are pristinely sharp and crisp. I think this Paramount Blu-ray is the most accurate and the DVDs look boosted by comparison (actually the two SD-DVDs are the exact same transfer). I can only say that my presentation was astounding - the film in this new rendering impacted me more than ever before. I was filled with emotion. You can see the high degree of detail in some of the additional screen captures posted at the bottom of this review. The first disc - almost 46 Gig worth, is entirely devoted to the feature - sharing it with no supplements. It is supported with a solid bitrate for the almost 3-hour film. We will do more investigation but as for now I am very satisfied - I see, absolutely, no DNR and suggest that this is the way the filmmakers wanted Saving Private Ryan to look. It's incredibly impressive at times.

Audio is a rousing DTS-HD Master 5.1 anchored with strong 4198 kbps. More drama and 'shell-shocked' intent is produced by the lossless audio rending. It has incidents of subtle intent and verbose grandeur. This mix is dynamic and buoyant - with moments as aggressive as I have heard in a while. Bravo! There are optional subtitles for the feature and all 2nd disc extras and m

y Momitsu has identified it as being a region FREE disc playable on Blu-ray machines worldwide. NOTE:
HOLLYWOOD, CA (May 12, 2010) - Paramount Home Entertainment today announced that it is recalling the Sapphire Series Blu-ray edition of Saving Private Ryan recently released in North America, the United Kingdom and the Benelux countries due to an audio synch error that occurred during Technicolor's authoring process. Although Technicolor employs comprehensive quality control measures, in this instance the issue was not detected prior to replication.

"Technicolor has been a valuable partner to Paramount Home Entertainment, and both Paramount and Technicolor are committed to providing the highest quality product to consumers," said Dennis Maguire, President, Paramount Pictures Home Entertainment Worldwide. "Our Sapphire Series was created to present our greatest films with the finest picture and sound quality available. Saving Private Ryan is a five time Academy Award® winning film including Best Director from one of America's most acclaimed filmmakers so we are recalling this edition to ensure that every Blu-ray disc honors Steven Spielberg's vision."

Technicolor has set up the following toll-free numbers for consumers who have already purchased the Saving Private Ryan Sapphire Series Blu-ray, which provides details on how they can receive a replacement copy — US and Canada: 888-370-8621, UK: 08000-852-613. Consumers can also return the Blu-ray to the stores where they purchased the product to receive a replacement. Technicolor expects to have replacement discs available at retail no later than Tuesday, May 18.

Extras, all housed on a second

Blu-ray disc, have all that the 60th Anniversary D-Day DVD package contains (hour's worth of production featurettes) and add Shooting War - a 1.5 hour 2000 documentary by Richard Schickel. Tom Hanks narrates (Spielberg produces) this film on WW II combat photographers in the Pacific and Europe. It gives great historical context to the feature film. Very much worth watching but is only in SD.

The package is HUGE in my opinion. I have come to appreciate this film in a much greater manner than ever before. "A recruiting film'? Sure - but, if so, the best I've ever seen. The

Blu-ray has our highest recommendation. - Gary W. Tooze

ON THE DVD:

Looking at the bitrate graph, I would guess that the only addition to the audio/video in the new edition is the French DUB and Spanish subtitles. Of course there is a whole second disc of Extra Features but my Bonus Disc is flawed (huge pixilation in the title menu and then freezes up). So my recommendation is not to upgrade if you have the first DVD (remember there were actually 2 - a DTS disc as well). I thought some improved compression might have been included, but it hasn't. There is a big debate about Edge Enhancement and this disc - yes it still has some - VERY minor though (see very bottom). Nothing to get excited over - but I find it a bit of a rip-off that they haven't improved the image at all. Great contrast and deep blacks. The film was shot with so many techniques that it can appear grainy and overly bright at times - purposely. The audio in the new edition is magnificent. Truly demo-quality. Remember purchasing this DVD is in no way acknowledging D-Day - you can do that in private. This is just a slick marketing ploy to sell more DVDs and they didn't even bother to improve the image. I think very little effort was put into this new DVD. $26 is a lot to pay for some Extras, especially if the disc is flawed (like mine)! - Gary W. Tooze