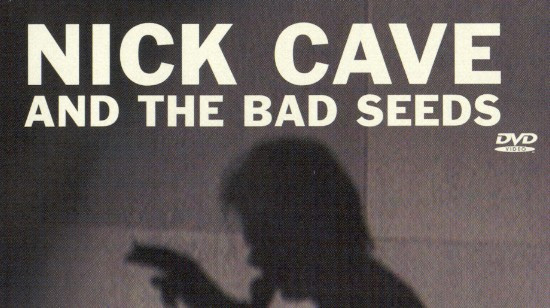 directed by Fabien Raymond
France 2001
The DVD contains live footage from Le Transbordeur in Lyon, France, plus the John Hillcoat directed documentary No More Shall We Part - The Recording Sessions. Recorded at Abbey Road, the documentary has exclusive film of the band recording No More Shall We Part. Also featured on the DVD are the videos Hillcoat directed for the singles 'As I Sat Sadly By Her Side' and 'Fifteen Feet Of Pure White Snow', the latter features cameos from the likes of Jarvis Cocker and Jason Donovan plus the video for the Australian released single, 'Love Letter'. The Lyon concert from 2001's No More Shall We Part tour features the Bad Seeds line up of Nick Cave, Mick Harvey, Blixa Bargeld, Thomas Wydler, Martyn Casey, Conway Savage, Jim Sclavunos and Warren Ellis playing tracks from eight of their twelve studio albums.

In what is the first major appearance on film by Nick Cave and the Bad seeds since Wim Wenders' WINGS OF DESIRE, we here have an explosive and in my opinion highly satisfying live performance. There are no cutaways to documentary footage, and the film avoids most of the clichés commonly afflicting filmed live performances, making it easy to forget that one is not actually attending the actual gig. This is a spectacular production from an artistic point of view. Nick Cave and the band are in great shape, fiercely brooding away as a remarkably cohesive organism, always pushing that border between careful restraint and violent eruption. A pure adrenalin rush.

out of

Posters etc.
Reviews DVD Reviews Official Nick Cave site
DVD Comparison:
Mute Films - Region 0 - PAL vs. Caroline Distribution - Region 0 - NTSC
Big thanks to Pavel Borodin and Trond Trondsen for the Screen Caps!
(Mute Films - Region 0 - PAL - LEFT vs. Caroline Distribution - Region 0 - NTSC - RIGHT)
DVD Box Covers

Distribution

Mute Films

Region 0 - PAL

Caroline Distribution
Region 0 - NTSC
Runtime
1:28:12 (4% PAL speedup)
1:28:03
Video

1.78:1 Original Aspect Ratio
Average Bitrate: 7.64 mb/s
PAL 720x576 25.00 f/s

1.78:1 Original Aspect Ratio
Average Bitrate: 7.83 mb/s
NTSC 704x480 29.97 f/s

NOTE: The Vertical axis represents the bits transferred per second. The Horizontal is the time in minutes.

Bitrate:

Mute Films

Bitrate:

Caroline Distribution

Audio
English (Dolby Digital 5.1, PCM Stereo)

English (Dolby Digital 5.1, PCM Stereo)

Subtitles
none
none
Features
Release Information:
Studio: Mute Films

Aspect Ratio:
Widescreen letterboxed - 1.78:1

Edition Details:
• Live at Le Transbordeur, Lyon, France, 8th June 2001
• Documentary:
'No More Shall We Part'
The Recording Sessions (0:37:27)
• Promotional Videos:
'As I Sat Sadly By Her Side'
'Fifteen Feet Of Pure White Snow'
'Love Letter'

DVD Release Date: August 11, 2003
Keep Case

Chapters 14


Release Information:
Studio: Caroline Distribution

Aspect Ratio:
Widescreen letterboxed - 1.78:1

Edition Details:
• Live at Le Transbordeur, Lyon, France, 8th June 2001
• Documentary:
'No More Shall We Part'
The Recording Sessions
• Promotional Videos:
'As I Sat Sadly By Her Side'
'Fifteen Feet Of Pure White Snow'
'Love Letter'



DVD Release Date: August 26, 2003
Keep Case

Chapters 14

Comments
ADDITION for European DVD from Mute Films:

It looks like NTSC to PAL conversion was made: almost the same runtimes and more 'ghosting' in PAL version. Also US release seems to be a little bit sharper. Otherwise, these two releases are completely identical.

- Pavel Borodin

Video

Highly sensitive film stock has been used in order to capture the action on the darkly lit stage; film-sourced graininess is seen in dark areas and overly bright areas exhibit haloing, as seen in the screenshots below. The haloing may also be explained by the use of high-order soft-focus filters; whatever the reasons may be, intentional or unintentional, I did not find that it detracted from the experience in the least. As for the graininess, don't let the screenshots fool you: it looks considerably worse in a still frame than it does on the actual 29.97 fps video stream, as the human eye-brain system tends to average (integrate) out much of the noise. The color temperature is inconsistent when cutting between two different cameras during the last few songs. The, in my mind, most serious flaw of the disc is however the lack of an anamorphic transfer, but there are still people out there (such as myself) who watch DVDs on old 4:3 television sets, I suppose. Limitations of the DVD medium itself does not introduce noticeable artifacts (except perhaps some odd jaggies seen very briefly on Track 13).
Video quality out of

Audio

DD 5.1 and a PCM Stereo tracks are provided. These are both of impeccable quality, significantly above average. The .1 portion of the DD track is highly effective. Play loud.
Audio quality out of
---



DVD Menus
(Mute Films - Region 0 - PAL - LEFT vs. Caroline Distribution - Region 0 - NTSC - RIGHT)
| | |
| --- | --- |
| | |
| | |
| | |
| | |
---
Screen Captures
(Mute Films - Region 0 - PAL - TOP vs. Caroline Distribution - Region 0 - NTSC - BOTTOM)
---
(Mute Films - Region 0 - PAL - TOP vs. Caroline Distribution - Region 0 - NTSC - BOTTOM)
---
(Mute Films - Region 0 - PAL - TOP vs. Caroline Distribution - Region 0 - NTSC - BOTTOM)
---
(Mute Films - Region 0 - PAL -
TOP
vs. Caroline Distribution - Region 0 - NTSC -
BOTTOM
)
---
(Mute Films - Region 0 - PAL - TOP vs. Caroline Distribution - Region 0 - NTSC - BOTTOM)
---
(Mute Films - Region 0 - PAL -
TOP
vs. Caroline Distribution - Region 0 - NTSC -
BOTTOM
)
---
(Mute Films - Region 0 - PAL - TOP vs. Caroline Distribution - Region 0 - NTSC - BOTTOM)

---
Report Card:
| | |
| --- | --- |
| Image: | Caroline Distribution (less 'ghosting') |
| Sound: | same |
| Extras: | same |
| Menu: | same |
DVD Box Covers

Distribution

Mute Films

Region 0 - PAL

Caroline Distribution
Region 0 - NTSC