| | |
| --- | --- |
| | S E A R C H D V D B e a v e r |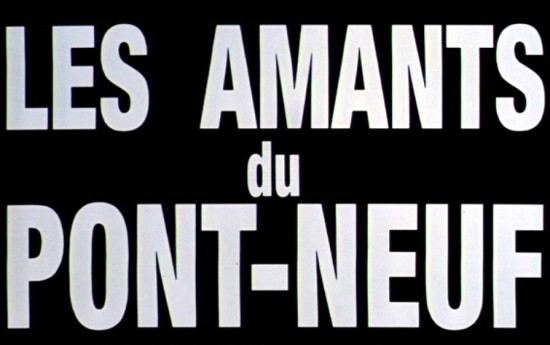 (aka "The Lovers on the Bridge" or "L'Amour entre une fils et un garçon" or "Lovers on the Ninth Bridge")
directed by Leos Carax
France 1991
When looking at my last updated list of favorite foreign language films, this clocked in at #23, although I admittedly had not seen it for a few years. I have viewed a boatload of films since creating that list, and although I might not put this as high as #23 now, it would still be on the list somewhere.
Two street people, Michèle and Alex, connect on a famous bridge that is under restoration. Other homeless people congregate there but these two help each other live their lives with total abandon and expression. Juliette Binoche and Denis Lavant have a wonderful chemistry that didn't spark as well as this in Mauvais Sang (another Carax film) - although it was evident. This is a pure love story with no sex or gratuitous affectations. It expresses the type of relationships that transpires in your life when you communicate with the utmost simplicity. There are no lovers games - or faint praises... they just exist, and want each other near. We see the horrible manner in which they subsist and learn about there troubles, ever so slowly. Michèle is an artist who is going blind and Alex is a total survivor. Their smiles when they are together are infectious. We see their adventures as they express joy like young children finding freedom and discovery. This film is about love - its jealousies, respect and unabashed caring - showing that it is not exclusive to the rich and unblemished.
I like Carax films and this is my favorite. If it has a flaw then some say the ending felt rushed, and I agree - still I personally wanted the film to go on and on and never end.
Posters
Theatrical Release: October 16th, 1991 - France
Reviews More Reviews DVD Reviews
DVD Comparison:
Buena Vista - Region 1 - NTSC vs. Arrow Films - Region 2 - PAL
(Buena Vista - Region 1 - NTSC - LEFT vs. Arrow Films - Region 2 - PAL - RIGHT)
DVD Box Covers

Distribution

Buena Vista Home Video

Region 1 - NTSC

Arrow Films
Region 2 - PAL
Runtime
2:05:40
1:59:41 (4% PAL speedup)
Video
1.78:1 Widescreen 16X9 enhanced
Average Bitrate: 6.74 mb/s
NTSC 720x480 29.97 f/s

1.66:1 Widescreen 16X9 enhanced
Average Bitrate: 4.89
PAL 720x576 25.00 f/s

NOTE: The Vertical axis represents the bits transferred per second. The Horizontal is the time in minutes.

Bitrate:

MGM

Bitrate:

Anchor

Bay

Audio
French (Dolby Digital 2.0 Mono)

French (Dolby Digital 2.0 Mono)

Subtitles
English, and none
English, and none
Features
Release Information:
Studio: Buena Vista Home Video

Aspect Ratio:
Widescreen anamorphic - 1.78:1



Edition Details:
Miramax Trailer

DVD Release Date: January 13th, 2004
Keep Case
Chapters: 21


Release Information:
Studio: Arrow Films

Aspect Ratio:
Widescreen anamorphic - 1.66:1


Edition Details:
• Filmographies


DVD Release Date: July 30th, 2001
Keep Case

Chapters 27
Comments:
The Buena Vista image has a slight bluish tinge where the Arrow Films looks greenish. The Arrow Films is sharper and the Buena Vista looks faded. I am not as concerned about that as I am the aspect ratio. The film was shot in 1.66:1 ratio, but Buena Vista in their infinite wisdom have decided to crop it from that original ratio (also looks like they zoomed in in places). Perhaps they are unaware of how to anamorphize and image that is 1.66? - no matter what, it is totally unacceptable. This is a wonderful film and Buena Vista have scarred it for Region 1 viewers. You can se for yourself how much is missing from the image - far too much. I really hate this type of thing.

Both editions have removable English subs (although translated slightly differently) and the original French soundtrack. Neither has Extras worth discussing. Obviously scrap the Region 1 and buy the Arrow Films DVD - far better. I understand their is also a German edition out, but I have no details at present.
---
Recommended Reading in French Cinema (CLICK COVERS or TITLES for more information)
The Films in My Life
by Francois Truffaut, Leonard Mayhew

French Cinema: A Student's Guide
by Philip Powrie, Keith Reader
Agnes Varda by Alison Smith
Godard on Godard : Critical Writings by Jean-Luc Godard
The Art of Cinema by Jean Cocteau
French New Wave
by Jean Douchet, Robert Bonnono, Cedric Anger, Robert Bononno
French Cinema: From Its Beginnings to the Present
by Remi Fournier Lanzoni
Truffaut: A Biography by Antoine do Baecque and Serge Toubiana
Check out more in "The Library"
---


DVD Menus
(Buena Vista - Region 1 - NTSC - LEFT vs. Arrow Films - Region 2 - PAL - RIGHT)
---
Subtitle Samples
(Buena Vista - Region 1 - NTSC - TOP vs. Arrow Films - Region 2 - PAL - BOTTOM)
---
Screen Captures
(Buena Vista - Region 1 - NTSC - TOP vs. Arrow Films - Region 2 - PAL - BOTTOM)
(Buena Vista - Region 1 - NTSC - TOP vs. Arrow Films - Region 2 - PAL - BOTTOM)
---
(Buena Vista - Region 1 - NTSC - TOP vs. Arrow Films - Region 2 - PAL - BOTTOM)
---
(Buena Vista - Region 1 - NTSC - TOP vs. Arrow Films - Region 2 - PAL - BOTTOM)
---
(Buena Vista - Region 1 - NTSC - TOP vs. Arrow Films - Region 2 - PAL - BOTTOM)
---
(Buena Vista - Region 1 - NTSC - TOP vs. Arrow Films - Region 2 - PAL - BOTTOM)
---
(Buena Vista - Region 1 - NTSC - TOP vs. Arrow Films - Region 2 - PAL - BOTTOM)

---
Report Card:
| | |
| --- | --- |
| Image: | Arrow Films |
| Sound: | - |
| Extras: | - |
| Menu: | Arrow Films |
DVD Box Covers

Distribution

Buena Vista Home Video

Region 1 - NTSC

Arrow Films
Region 2 - PAL