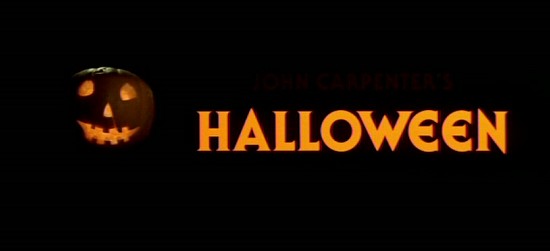 directed by John Carpenter
USA 1978
Halloween is one of those films where the attention to detail is evident in every frame. While there are many memorable moments, three scenes stand out above the rest. The first is the long, unbroken opening sequence where the young Michael dons a clown mask and murders his sister. Often copied, but never equaled, this scene was unique for its time and reminiscent of Psycho's shower murder for its effect. The second also occurs early in the movie, as Michael escapes from the asylum during a rain storm. To this day, I find these to be the most chilling three minutes of the movie. Finally, there's the scene near the end where Laurie is banging on a locked door while Michael approaches slowly and inexorably from behind. It's a credit to Carpenter that, no matter how many times you've seen the movie, the tension at this point still mounts to a palpable level.

Excerpt from James Berardinelli's review found HERE.
Posters
Theatrical Release: October 25th, 1978
Reviews More Reviews DVD Reviews
DVD Comparison:
Anchor Bay (restored) - Region 0- NTSC vs. Astro / Laser Paradise - Region 0 - PAL vs. Marketing (TV) - Region 0 - PAL - vs. Marketing (Theatrical) - Region 0 - PAL
Thanks to our friends at

for all the PAL screen captures!
(Anchor Bay (restored)- Region 1- NTSC LEFT vs. Astro / Laser Paradise - Region 0 - PAL 2nd vs. Marketing (TV) - Region 0 - PAL - 3rd -. Marketing (Theatrical) - Region 0 - PAL - RIGHT)
Covers

Halloween (Restored)

Halloween



Halloween (TV-Extended Version)



Halloween (Cinema Version)



Version

Anchor Bay

RC 0

Astro / Laser Paradise
RC 0
Marketing
RC 0
Marketing
RC 0
Running Time
1:30:57 (NTSC)
1:30:52 h (PAL - taken from NTSC source)
1:40:56 h (PAL)
1:27:09 h (PAL)
Aspect Ratio
2.35:1 (anamorphic)
2.35:1 (Letterbox)
2.35:1 (anamorphic)
2.35:1 (anamorphic)
Bitrate
Halloween -

Anchor Bay - R1



4.88 mb/s

Halloween -

Astro / Laser Paradise



5,60 mb/s

Halloween - (TV-Extended Version)

Marketing



5,72 mb/s

Halloween - (Theatrical)

Marketing



7,48 mb/s

Audio
(English) Dolby Digital 5.1
(English) Dolby Digital 2.0 Stereo
(English) Dolby Digital 2.0 Mono

LPCM 2.0 768kBit (German)

Dolby Digital 5.1 448kBit (German)
Dolby Digital 2.0 224kBit (German)
Dolby Digital 2.0 224kBit (English)
Dolby Digital 5.1 448kBit (German)
Dolby Digital 2.0 224kBit (German)
Dolby Digital 5.1 384kBit (English)
Dolby Digital 2.0 192kBit (English)
Extras

• Widescreen Presentation enhanced for 16x9 TVs
• Full-Frame Presentation
• Featurette: Halloween Unmasked 2000 (27:12)
• Behind the Scenes Still Gallery

• Publicity Photos and Posters Gallery (61)
• Theatrical Trailer and Re-release trailer
• TV Spots (3)
• Radio Spots (3)
• Talent Bios

• Trivia

• Trailer "Bad Taste"
• Documentation for TV version (11:22 min)
• 3 Trailer (5:30 min)
• Interview with John Carpenter (27:36 min)
• Picture gallery: Behind The Scenes (102 pictures)
• Picture gallery: Graduation & Artwork (76 pictures)
• 6 bio and Filmografien
• 4 Trailer (10:04 min)
• 6 TV Spots (2:27 min)
• 5 radio Spots (2:20 min)
• 5 Filmografien
• Slideshow (23 pictures)
• The Slasherfilm (6 text boards)
• The Halloween celebration (3 text boards)
• Covergalerie (24 pictures)
• Poster gallery (13 pictures)
• Production notes (5 sides)
• Behind The Scenes photo (19 pictures)
• Advertising advice (17 pictures)
• Siskel & Ebert Preview (4:34 min)
• Perfect Collection Trailer (3:12 min)
Menus

Chapters
26
8
16
12
DVD-Type / Package
DVD-9 / KeepCase
DVD-5 / KeepCase
DVD-9 / KeepCase
DVD-9 / KeepCase


(Anchor Bay (restored)- Region 1- NTSC TOP vs. Astro / Laser Paradise - Region 0 - PAL 2nd vs. Marketing (TV) - Region 0 - PAL - 3rd -. Marketing (Theatrical) - Region 0 - PAL - BOTTOM)
(Anchor Bay (restored)- Region 1- NTSC TOP vs. Astro / Laser Paradise - Region 0 - PAL 2nd vs. Marketing (TV) - Region 0 - PAL - 3rd -. Marketing (Theatrical) - Region 0 - PAL - BOTTOM)
(Anchor Bay (restored)- Region 1- NTSC TOP vs. Astro / Laser Paradise - Region 0 - PAL 2nd vs. Marketing (TV) - Region 0 - PAL - 3rd -. Marketing (Theatrical) - Region 0 - PAL - BOTTOM)
(Anchor Bay (restored)- Region 1- NTSC TOP vs. Astro / Laser Paradise - Region 0 - PAL 2nd vs. Marketing (TV) - Region 0 - PAL - 3rd -. Marketing (Theatrical) - Region 0 - PAL - BOTTOM)