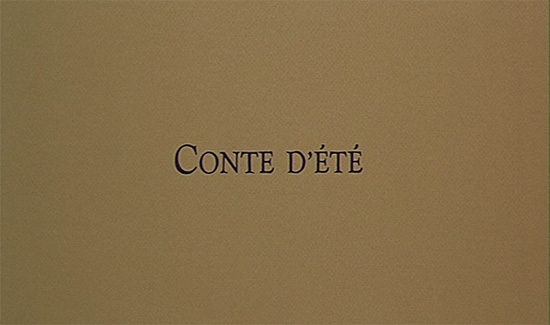 (aka "A Summer's Tale" )
The easy charm and gentle humor of Eric Rohmer's movies can easily seem at odds with the grandiose design of his multi-film series, but the two couldn't be more compatible. "Six Moral Tales," "Comedies And Proverbs," and most recently "Tales Of The Four Seasons" all sound like projects of forbiddingly self-conscious profundity, but that ambition belies the instantly enjoyable films within. Instead of working from the top down, Rohmer uses the materials of everyday life to get at the profound. The new-to-video 1996 film A Summer's Tale (Conte d'Été), the third in Rohmer's "Four Seasons" series, uses two weeks at a seaside resort town—the sort of environment in which the demands of the real world can be kept at arm's length—to examine the ins and outs of young love as experienced by an introverted recent MA recipient (Melvil Poupaud) with designs on becoming a songwriter. Waiting for his girlfriend (Aurelia Nolin) to join him, he strikes up a friendship with a pretty waitress and ethnologist (Amanda Langlet) that grows increasingly difficult to define as Nolin's arrival becomes less imminent. Further complicating matters is the arrival of a third woman (Gwenaëlle Simon) whose aggressiveness matches the others' ambiguity. As usual, Rohmer's characters do far more talking about their feelings than acting upon them, but what they don't say, and what they don't yet have the vocabulary to say, is every bit as important. Poupaud may come off as callow and timid, and his songs as unformed as his personality, but Rohmer seems to suggest that his youthful mistakes will make him a better man, a typically generous, hopeful, and convincing sentiment in a disarmingly winning film.
Excerpt from Keith Phipps review at The Onion AV Club HERE
Poster
Theatrical Release: France5 June 1996
Reviews More Reviews DVD Reviews
DVD Comparison:
Artificial Eye - Region 2 - PAL vs. Fox Lorber - Region 0 - NTSC
Big thanks to Per-Olof Strandberg for the Artificial Eye Screen Caps!
(Artificial Eye - Region 2 - PAL - LEFT vs. Fox Lorber - Region 0 - NTSC - RIGHT)
DVD Box Covers

Distribution

Artificial Eye

Region 2 - PAL

Fox Lorber
Region 0 - NTSC
Runtime
1:49:12 (4% PAL speedup)
1:49:00
Video

1:1.33 Open matte
Average Bitrate: mb/s
PAL 720x576 25.00 f/s

:1.33 Open matte
Average Bitrate: 5.32 mb/s
NTSC 720x480 29.97 f/s

NOTE: The Vertical axis represents the bits transferred per second. The Horizontal is the time in minutes.

Bitrate:

Artificial Eye

Could not obtain

Bitrate:

Fox Lorber

Audio
DD 2.0 French

1.0 French

Subtitles
English and None
English and None
Features
Release Information:
Studio: Artificial Eye

Aspect Ratio:
Fullscreen - 1:1.33 Open matte

Edition Details:

• Interview with Eric Rohmer

• Theatrical trailer

• Eric Rohmer Biography

DVD Release Date: July 25, 2005
Keep Case

Chapters 14

Release Information:
Studio: Fox Lorber

Aspect Ratio:
Fullscreen - 1:1.33 Open matte

Edition Details:
• Filmographies and Awards

• Production Credits


DVD Release Date: September 5th, 2000
Keep Case

Chapters 16
Comments

The cover of Artificial-Eye's DVD A Summer's Tale is exactly the same as their VHS release from March 24, 1997. The VHS has on the back cover: Letterbox, this DVD: Enhanced for widescreen TV's. This DVD is indeed 4:3 / 1:1.33. I started to be afraid that the similarities with the cover's don't stop there.

This DVD looks as if it's mastered from the same source from 1997, before the use of DVD. Even tough the print is sharp and has depth, much has happened since 1997. Not to mention that nowadays the open matte print uses to at least have an anamorphic option, for those who have widescreen equipment!

It look's like AE has gone with these Four Seasons series, where the fence is lowest!

These said, the film is reasonable new and because of that in good shape, even like this.

- Per Olaf-Strandberg

The AE DVD is far ahead of its North American counterpart which is another Fox/Lorber PAL->NTSC ghosted mess. Visible artifacts, colors are slightly off, but the subtitles are unusually optional (as opposed to burned-in), which is different than most of the Rohmer Fox/Lorber DVDs. The Fox is cropped on both side edges. It appears as though the AE is not progressive but that still beats out the Fox which is neither progressive nor from the correct standard source. Extras on the AE are superior with the Rohmer interview. Not perfect, but the AE is the definitive choice with English subtitles existing to date on DVD.

Gary Tooze
---




DVD Menus
(Artificial Eye - Region 2 - PAL -
LEFT
vs. Fox Lorber - Region 0 - NTSC -
RIGHT
)
---
Screen Captures
(Artificial Eye - Region 2 - PAL - TOP vs. Fox Lorber - Region 0 - NTSC - BOTTOM)
---
(Artificial Eye - Region 2 - PAL - TOP vs. Fox Lorber - Region 0 - NTSC - BOTTOM)
---
(Artificial Eye - Region 2 - PAL - TOP vs. Fox Lorber - Region 0 - NTSC - BOTTOM)
---
(Artificial Eye - Region 2 - PAL - TOP vs. Fox Lorber - Region 0 - NTSC - BOTTOM)
---
(Artificial Eye - Region 2 - PAL - TOP vs. Fox Lorber - Region 0 - NTSC - BOTTOM)
---
(Artificial Eye - Region 2 - PAL - TOP vs. Fox Lorber - Region 0 - NTSC - BOTTOM)

---
Report Card:
| | |
| --- | --- |
| Image: | Artificial Eye |
| Sound: | Artificial Eye |
| Extras: | Artificial Eye |
| Menu: | Artificial Eye |