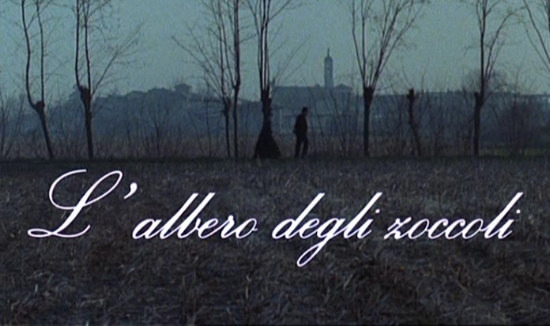 (aka "L'Albero degli zoccoli" or "The Tree with the Wooden Clogs" or "L'Arbre aux sabots")
directed by Ermanno Olmi
Italy 1978
Ermanno Olmi's 185-minute study of peasant life in turn-of-the-century Italy (1978) is rich with incident but thin on ideas--less an advance over the standard film festival peasant epic than an unusually accomplished rendition of it. The characters and situations are oppressively familiar; Olmi's wide-eyed, wondering point of view helps to freshen them, but not enough to overcome completely the Marxist sentimentalism inherent in the concept. I found the film most successful when it left its tenant farm setting for a lovely, lyrical boat trip to the big city, the one moment of expansiveness in Olmi's otherwise hermetic narration. Still, the film is consistently engaging and suggestive, though it never explodes into the masterpiece it's clearly intended to be.
Posters
Theatrical Release: September 1978 - France
Reviews More Reviews DVD Reviews
DVD Comparison:
Nouveaux Picture - Region 2 - PAL vs. Italian Instituto Luce (2-disc) - Region 2 - PAL vs. Koch Lorber - Region 0 - NTSC
Big thanks to Marshall Deutelbaum, Mark Nigara and Gregory Meshman for the Screen Caps!
(Nouveaux Picture - Region 2 - PAL LEFT vs. Italian Instituto Luce (2-disc) - Region 2 - PAL - MIDDLE vs. Koch Lorber - Region 0 - NTSC - RIGHT)
DVD Box Covers

Distribution

Nouveaux Pictures

Region 2 - PAL

Italian Instituto Luce

Region 2 - PAL

Koch Lorber
Region 0 - NTSC
Runtime
2:59:00
2:59:00
2:58:12
Video
1.33:1 Original Aspect Ratio
Average Bitrate: mb/s
PAL 720x576 25.00 f/s

1.33:1 Original Aspect Ratio
Average Bitrate: mb/s
PAL 720x576 25.00 f/s

1.33:1 Original Aspect Ratio
Average Bitrate: 4.54 mb/s
NTSC 720x480 29.97 f/s

Audio
Italian Mono (Dub)
Italian 5.1 (Dub), Italian DTS (Dub), Italian Mono (Dub), Original Italian (Bergamasco) (Mono)

Original Italian (Bergamasco) (Dolby Digital 2.0)

Subtitles
English (non-removable)
English, Italian, French, Spanish, Original Italian (Bergamasco), none
English, none
Features
Release Information:
Studio: Nouveaux Pictures

Aspect Ratio:
Fullscreen - 1.33:1

Edition Details:
• Introduction to the Film
• Photo Gallery
• Filmographies and Biographies
• Trailers

DVD Release Date: February 11th, 2002

Chapters 20

Release Information:
Studio: Italian Instituto Luce

Aspect Ratio:
Fullscreen - 1.33:1

Edition Details:
• Technical Commentary
• Photo Gallery
• Filmographies and Biographies
• Trailers

DVD Release Date: 2003

Chapters 20

Release Information:
Studio: Koch Lorber

Aspect Ratio:
Fullscreen - 1.33:1

Edition Details:
• Trailer
• Photo Gallery
• Trailers for 6 other movies available from Koch Lorber


DVD Release Date: July 13th, 2004
Keep case

Chapters 33
Comments

ADDITION: Nouveaux - Region 2 - PAL - June - 05 - You know this Nouveaux DVD has been out for over 3 years - you think someone else could have reviewed it? I look on DVDBasen HERE and I see no one has done the UK edition. So, as we knew the Italian Luce disc was superior to the Koch, that is the one I hunted down and babel-fished until, almost as soon as I got a copy someone send me caps to show the cheaper (with the entire film on one disc), and virtually same extras - is at an English e-tailor site. I am the consummate DVD loser.

Okay, I still haven't come to a positive conclusion but so far the Nouveaux Pictures DVD is a head by a length, but we now see it has non-removable subtitles. It is as sharp, seems to have more accurate color (see red skin tones of the LUCE + Koch discs) and next to the LUCE DVD, the Italian disc seems brightened. I will be conforming the details of the Nouveaux disc as soon as I receive it. Right now it is the one to buy unless you despise burned in subtitles.

***

The Instituto Luce is more accurate in terms of color. The Koch has a greenish haze over it. There is minor ghosting on the Koch (1st and 3rd captures) as it was transferred to NTSC directly from a PAL source. The film is originally in the Bergamasco dialect. Both have the original language but the Instituto Luce also has the more standard Italian as a dub option. The Instituto Luce has a commentary (in Italian) and the film is divided over 2 discs. The Instituto Luce subtitle font an color are superior to the Kochs'. We recommend the Instituto Luce package.

Gary Tooze
---
DVD Menus
Nouveaux Pictures - Region 2 - PAL
| | |
| --- | --- |
| | |
| | |

(Italian Instituto Luce (2-disc) - Region 2 - PAL - LEFT vs. Koch Lorber - Region 0 - NTSC - RIGHT)
| | |
| --- | --- |
| | |
| | |
| | |
| | |
| | |
---
Screen Captures
(Nouveaux Picture - Region 2 - PAL TOP vs. Italian Instituto Luce (2-disc) - Region 2 - PAL - MIDDLE vs. Koch Lorber - Region 0 - NTSC - BOTTOM)
Subtitle Sample
---
(Nouveaux Picture - Region 2 - PAL TOP vs. Italian Instituto Luce (2-disc) - Region 2 - PAL - MIDDLE vs. Koch Lorber - Region 0 - NTSC - BOTTOM)
---
(Nouveaux Picture - Region 2 - PAL TOP vs. Italian Instituto Luce (2-disc) - Region 2 - PAL - MIDDLE vs. Koch Lorber - Region 0 - NTSC - BOTTOM)
---
(Nouveaux Picture - Region 2 - PAL TOP vs. Italian Instituto Luce (2-disc) - Region 2 - PAL - MIDDLE vs. Koch Lorber - Region 0 - NTSC - BOTTOM)
---
(Nouveaux Picture - Region 2 - PAL TOP vs. Italian Instituto Luce (2-disc) - Region 2 - PAL - MIDDLE vs. Koch Lorber - Region 0 - NTSC - BOTTOM)
---
(Nouveaux Picture - Region 2 - PAL TOP vs. Italian Instituto Luce (2-disc) - Region 2 - PAL - MIDDLE vs. Koch Lorber - Region 0 - NTSC - BOTTOM)

---
Report Card: