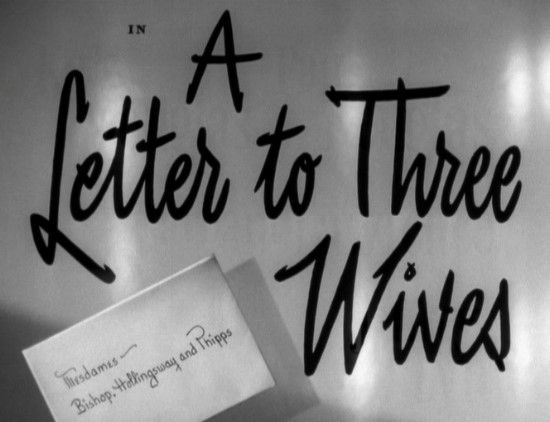 (aka "A Letter to Four Wives" or "A Letter to Five Wives")
directed by Joseph L. Mankiewicz
USA 1949
Joseph L. Mankiewicz directed and wrote the screenplay (based on John Klempner's novel) for the 1949 feature A Letter To Three Wives and would receive Academy Awards® for both efforts. The film was also nominated for Best Picture. As three women head off on a boating trip with a group of children, they receive a letter written by a woman claiming to have stolen one of their husbands. Which one? The letter doesn't say. Faced with the prospect of a shattered life, each woman soul searches throughout the day: Deborah Bishop (Jeanne Crain) feels inadequate amidst her husband's (Jeffrey Lynn) country club set. Everyone sees Lora Mae Hollingsway (Linda Darnell) as a gold digger, including her husband (Paul Douglas). And Rita Phipps (Ann Sothern) has a career that makes her husband (Kirk Douglas) feel neglected to the point of infidelity. All three endure the anguish of uncertainty until the boat trip ends—and the truth is revealed.
Posters
Theatrical Release: January 20th, 1949 - USA
Reviews More Reviews DVD Reviews
DVD Comparison:
Carlotta (France) - Region 2- PAL vs. 20th Century Fox (Studio Classics) - Region 1 - NTSC vs. Optimum Classics - Region 2 - PAL
Big thanks to Vincent Lacomme and Henrik Sylow for the Screen Caps!
(Carlotta - (France) - Region 2- PAL - LEFT vs. 20th Century Fox (Studio Classics) - Region 1 - NTSC - MIDDLE vs. Optimum Classics - Region 2 - PAL - RIGHT)
DVD Box Covers

Distribution
Carlotta
Region 2 - PAL

20th Century Fox

Region 1 - NTSC

Optimum Classics
Region 2 - PAL
Runtime
1:38:53 (4% PAL speedup)
1:43:00
1:38:53 (4% PAL speedup)
Video
1.33:1 Original Aspect Ratio
Average Bitrate: 5.49 mb/s
PAL 720x576 25.00 f/s

1.33:1 Original Aspect Ratio
Average Bitrate: 7.35 mb/s
NTSC 720x480 29.97 f/s

1.33:1 Original Aspect Ratio
Average Bitrate: 5.43 mb/s
PAL 720x576 25.00 f/s

NOTE: The Vertical axis represents the bits transferred per second. The Horizontal is the time in minutes.

Bitrate:

Carlotta

Bitrate:

20th Century Fox (Studio Classics)

Bitrate:

Optimum Classics

Audio
English 1.0 Mono
2.0 Dolby Digital English Mono, 2.0 Dolby Digital English Stereo

2.0 Dolby Digital English Mono

Subtitles
French, none
English, Spanish, None
None
Features
Release Information:
Studio: Carlotta

Aspect Ratio:
Fullscreen - 1.33:1

Edition Details:
Interview with Patrick Brion (14:01)
Interview with Pascale Breton, Dominique Cabrera, Jean Douchet and Yann Dedet (28:14)
Part 2 of the Interview with J. L. Mankiewicz (50:43)
Newsreel (1:12)
Theatrical Trailer (2:36)

DVD only available in the Mankiewciz Boxset.

DVD Release Date: November 16th, 2004
Digipack
Chapters 10

Release Information:
Studio: 20th Century Fox

Aspect Ratio:
Fullscreen - 1.33:1

Edition Details:
• Commentary by Mankiewicz biographer Kenneth Geist
• Biography: Linda Darnell - Hollywood's Fallen Angel
• Fox Movietone News
• Oscars presented for Achievements in Motion Pictures
• Restoration Comparison
• Theatrical Trailer

DVD Release Date: February 22nd, 2005
Keep Case

Chapters 18

Release Information:
Studio: Optimum Classics

Aspect Ratio:
Fullscreen - 1.33:1

Edition Details:
• Fox Movietone News (1:09)
• Original Theatrical Trailer (2:33)


DVD Release Date: April 4th, 2005
Keep Case

Chapters 16
Comments
ADDITION Carlotta Films - Region 2- PAL: The Mankiewicz boxset looks good - it does include 2 other films from the director "Dragonwyk" (I think) and "5 Fingers"? It looks almost identical to the Fox, but I still lean towards the Optimum, regardless if it may have been slightly brightened. I believe the Optimum to still be sharper. For normal tube viewing all editions have an excellent image. The Fox has the commentary and English subtitles where the other two do not.

Gary Tooze

*****

Another amazing transfer by Optimum. The image is sharper in detail than R1, but displays a more uneven distribution of pixels, which is visible around the letters in image #2 and the shades of grey. However these minor flaws are only visible in still frames. Nothing is detectable during the run of the film.

The 26% lower bitrate is due to Optimum being a DVD-5 and Fox a DVD-9.

Henrik Sylow
---

DVD Menus
(Carlotta - (France) - Region 2- PAL - LEFT vs. 20th Century Fox (Studio Classics) - Region 1 - NTSC - MIDDLE vs. Optimum Classics - Region 2 - PAL - RIGHT)
| | | |
| --- | --- | --- |
| | | |
| | | |
| | | |
| | | |
---
Screen Captures
(Carlotta - (France) - Region 2- PAL - TOP vs. 20th Century Fox (Studio Classics) - Region 1 - NTSC - MIDDLE vs. Optimum Classics - Region 2 - PAL - BOTTOM)
subtitle sample (English only)
PAL captures resized to 720px from 768px native resolution
---
(Carlotta - (France) - Region 2- PAL - TOP vs. 20th Century Fox (Studio Classics) - Region 1 - NTSC - MIDDLE vs. Optimum Classics - Region 2 - PAL - BOTTOM)
---
(Carlotta - (France) - Region 2- PAL - TOP vs. 20th Century Fox (Studio Classics) - Region 1 - NTSC - MIDDLE vs. Optimum Classics - Region 2 - PAL - BOTTOM)
---
(Carlotta - (France) - Region 2- PAL - TOP vs. 20th Century Fox (Studio Classics) - Region 1 - NTSC - MIDDLE vs. Optimum Classics - Region 2 - PAL - BOTTOM)
---
(Carlotta - (France) - Region 2- PAL - TOP vs. 20th Century Fox (Studio Classics) - Region 1 - NTSC - MIDDLE vs. Optimum Classics - Region 2 - PAL - BOTTOM)
---
(Carlotta - (France) - Region 2- PAL - TOP vs. 20th Century Fox (Studio Classics) - Region 1 - NTSC - MIDDLE vs. Optimum Classics - Region 2 - PAL - BOTTOM)
---
(Carlotta - (France) - Region 2- PAL - TOP vs. 20th Century Fox (Studio Classics) - Region 1 - NTSC - MIDDLE vs. Optimum Classics - Region 2 - PAL - BOTTOM)
note the difference in pixelation in the shades of grey in the sky

---
Report Card: