| | |
| --- | --- |
| | S E A R C H D V D B e a v e r |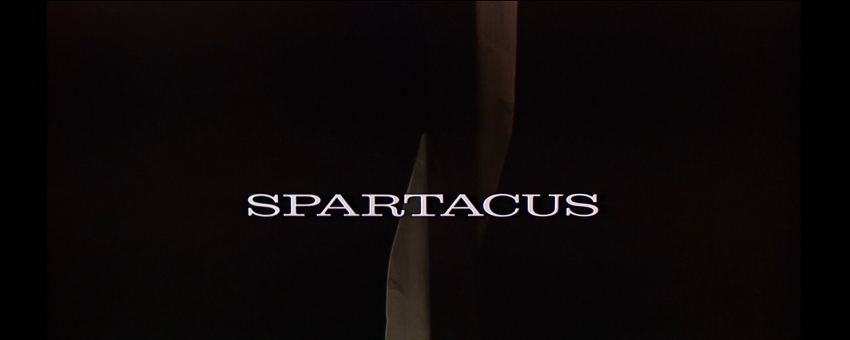 Stanley Kubrick directed a cast of screen legends – including Kirk Douglas as the indomitable gladiator that led a Roman slave revolt – in the sweeping epic that defined a genre and ushered in a new Holywood era. The assured acting, lush Technicolor cinematography, bold costumes and visceral fight sequences won Spartacus four Oscars; the blend of politics and sexual suggestion scandalized audiences. Today Kubrick's controversial classic, the first film to openly defy Hollywood's blacklist, remains a landmark of cinematic artistry and history.
Posters
(Click for larger versions)
Reviews More Reviews DVD Reviews
---
Comparison:
Criterion Region
0 - NTSC vs. Universal - Region FREE -
Blu-ray
Criterion Region 0 - NTSC LEFT vs. Universal - Region FREE - Blu-ray RIGHT
DVD Box Covers

Distribution

Criterion Collection - Spine #105

Region 0 - NTSC

Universal Studios

Region FREE Blu-ray

Runtime
3:16:30
3:16:44.501
Video
2.20:1 Original Aspect Ratio
Average Bitrate: 5.22 mb/s
NTSC 720x480 29.97 f/s

Disc Size: 43,429,930,857 bytes

Feature Size: 41,117,190,144 bytes

Average Bitrate:

21.99 Mbps

Dual-layered Blu-ray MPEG-4 AVC 1080P

Bitrate:

Criterion

Bitrate:

Universal Blu-ray

Audio

Dolby Surround Sound Film Soundtrack

Digital 5.1 Film Soundtrack

Dolby Digital 2.0 Commentary

Dolby Digital 1.0 Screenwriter analysis

DTS-HD Master Audio English 3491 kbps 5.1 / 48 kHz / 3491 kbps / 24-bit (DTS Core: 5.1 / 48 kHz / 1509 kbps / 24-bit)
DTS Audio French 768 kbps 5.1 / 48 kHz / 768 kbps / 24-bit

Subtitles
English, None
English (SDH), French, Spanish, None
Features

Edition Details:
• Commentary by producer-actor Kirk Douglas, actor Peter Ustinov, novelist Howard Fast, producer Edward Lewis, restoration expert Robert A. Harris, and designer Saul Bass
• Theatrical trailer(s)
• New transfer of the 1991 fully restored Super Technirama version

• Disc One:
• Screenwriter Dalton Trumbo's scene-by-scene analysis
• Additional Alex North score compositions
• Restoration demonstration
• Disc Two:
• Rare deleted scenes
• Vintage newsreel footage
• 1960 promotional interviews with Jean Simmons and Peter Ustinov
• 1992 video interview with Peter Ustinov
• Behind-the-scenes "gladitorial school" footage
• The 1960 documentary The Hollywood Ten, plus archival documents about the blacklist
• Original storyboards by Saul Bass
• Hundreds of production stills, lobby cards, posters, print ads, and a comic book
• Sketches by director Stanley Kubrick
• Number of discs: 2

Edition Details:
• Deleted scenes
• Interview with Peter Ustinov
• Interview with Jean Simmons
• Behind-the-scenes footage
• Vintage newsreels
• Theatrical trailer
• Production stills
• Concept art
• Costume designs
• Saul Bass storyboards
• Posters & print ads
• My Scenes
• BD Live

DVD Release Date: April 24, 2001
Double thick Keep Case
Chapters: 46
Blu-ray Release Date: May 25th, 2010
Standard Blu-ray Case
Chapters: 16
Comments
NOTE: The below Blu-ray captures were taken directly from the Blu-ray disc.

ADDITION - Universal - Region FREE - Blu-ray May 2010: Firstly, I am aware that some of the captures below on not exact frame matches but to adhere to the older Criterion images (one of our first comparisons ever on Beaver! 2001 Criterion vs. 1998 Universal DVDs) I stuck to an older methodology that made exact frame matching extremely difficult. To counter this I have added more than our usual number of grabs.

The Criterion was one of my favorite DVD packages - one I've played numerous times. I'll make some general comments - for the most part I'm not totally sold on the colors or transfer of the new Universal Blu-ray. Skin tones are quite red and it doesn't seem to have the same re-found dye as mentioned in the extras (ex. green light in the title as one example). Grain is less apparent than I would have expected. But saying all that the higher resolution is staggeringly sharper. This has swept away any reservation this reviewer had. It looks that good. But is it a digital smoke and mirrors? Probably, but I am indifferent at present. Robert Harris gives it a thumbs down - mine is more sideways. I don't have his discerning eyes as to readily dismiss. You may make up your own mind.

There are other slight visual differences like the 'Overture' and entr'acte title card (see sample below). While it was never a deterrent in my multiple Criterion viewings - I did note some instances of interlacing (when Varinia enters Spartacus' cell). We've seen this on some older Criterion transfer like Black Narcissus and were informed that it was a result of the 'alchemist' method of transfer. While it didn't impinge my standard viewing - we are a review site so... we mention it. Ohhh...the Universal has more information in the side edges of the frame but it keeps the ratio at 2.2:1.

NOTE: I believe this did come out in HD-DVD in 2006 but this must be a new transfer as the feature size alone is larger than the capacity of that now defunct format.

Continuing my gushing over the film - the Alex North score, filled with moving violins strings, is one of my favorite in all of cinema. The lossless DTS-HD Master 5.1 at 3491 kbps track has it sounding exquisite. It is quite beautiful and in this are the Blu-ray, expectantly, eclipses the Criterion. I wish they had an isolated score here. Both offer optional subtitles and both appear to be region FREE.

Extras - Universal has most (but not all) of the Criterion featurette extras - example they don't have all the Ustinov interviews, restoration piece etc.. The Blu-ray loses out in the larger sense without the commentary. This actually makes the Criterion DVD package worth owning despite its high price.

It would have been marvelous to have Criterion do this title in 1080P but alas accepting the Universal's imperfect A/V seems not such a bad consolation in my opinion. A missed opportunity? - sure and the video transfer has issues but we still recommend specifically because of the offered price and audio.

NOTE: People are speaking out against this title making a solid point that the majors won't get the point unless we are vehement in our dismissal. I believe they are right. Our recommendation is to own the Criterion DVD until this title is transferred correctly in the new format.
---
DVD Menus
Criterion Region 0 - NTSC LEFT vs. Universal - Region FREE - Blu-ray
RIGHT
---
CLICK EACH BLU-RAY CAPTURE TO SEE ALL IMAGES IN FULL 1920X1080 RESOLUTION
Screen captures
Criterion Region 0 - NTSC LEFT vs. Universal - Region FREE - Blu-ray RIGHT
Infrequent combing on Criterion (Alchemist transfer)
Criterion Region 0 - NTSC TOP vs. Universal - Region FREE - Blu-ray BOTTOM
---
Criterion Region 0 - NTSC TOP vs. Universal - Region FREE - Blu-ray BOTTOM
---
Criterion Region 0 - NTSC TOP vs. Universal - Region FREE - Blu-ray BOTTOM
---
Criterion Region 0 - NTSC TOP vs. Universal - Region FREE - Blu-ray BOTTOM
---
Criterion Region 0 - NTSC TOP vs. Universal - Region FREE - Blu-ray BOTTOM
---
Criterion Region 0 - NTSC TOP vs. Universal - Region FREE - Blu-ray BOTTOM
---
Criterion Region 0 - NTSC TOP vs. Universal - Region FREE - Blu-ray BOTTOM
---
Criterion Region 0 - NTSC TOP vs. Universal - Region FREE - Blu-ray BOTTOM
---
Criterion Region 0 - NTSC TOP vs. Universal - Region FREE - Blu-ray BOTTOM
---
Criterion Region 0 - NTSC TOP vs. Universal - Region FREE - Blu-ray BOTTOM
---
Criterion Region 0 - NTSC TOP vs. Universal - Region FREE - Blu-ray BOTTOM
---
Criterion Region 0 - NTSC TOP vs. Universal - Region FREE - Blu-ray BOTTOM
---
Report Card:
| | |
| --- | --- |
| Image: | Blu-ray |
| Sound: | Blu-ray |
| Extras: | Criterion |
Incidental Reading on Stanley Kubrick (CLICK COVERS or TITLES for more information)
DVD Box Covers

Distribution

Criterion Collection - Spine #105

Region 0 - NTSC

Universal Studios

Region FREE Blu-ray




---