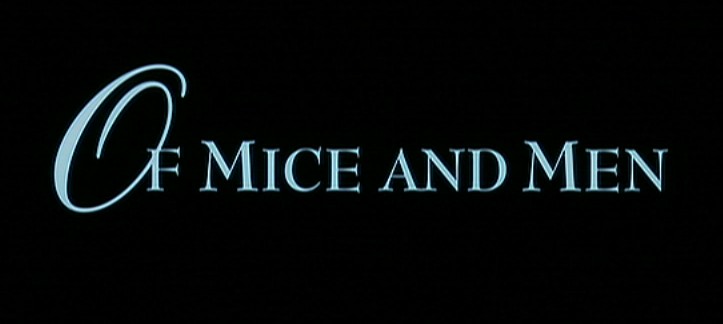 directed by Gary Sinise
U.S. 1992
John Steinbeck's classic novel "Of Mice and Men" gets its third movie treatment, having been filmed previously for the big screen in 1939 (starring Burgess Meredith and Lon Chaney Jr.) and for television in 1981 (with Robert Blake and Randy Quaid). (Only the latter version is on video.)

This time out, however, director/producer/star Gary Sinise gives us a more clear-eyed vision of the story of downtrodden George and feeble-minded Lennie, who "travel together." The story is set in California during the Depression, where George (Sinise) and Lennie (John Mal-kovich) take work as farmhands, hoping to be able to stay in one place long enough to raise the money to buy a little place of their own. But Lennie's brute strength, coupled with his childlike curiosity, invariably leads to trouble and, ultimately, tragedy.

Sinise the director manages to keep the various elements under control as if he already has a dozen films under his belt. In fact, this is only his second (after "Miles From Home"). The screenplay, by Horton Foote, is masterful and the technical elements are all excellent, from the period sets and costumes to the sharp cinematography.

"Of Mice and Men" is a fine, literate film of the kind we get all too infrequently these days. It is rated PG-13 for a fair amount of profanity, some vulgarity and some violence.
Excerpt from Chris Hicks' review at DesertNews.com located HERE

Posters
Theatrical Release Date: October 2, 1992
Reviews More Reviews DVD Reviews
DVD Comparison:
MGM - Region 1 - NTSC vs. SE MGM - Region 1 - NTSC
(MGM R1 - NTSC-Left vs. MGM SE R1 - NTSC-Right)
DVD Box Covers

Distribution

MGM

Region 1 - NTSC

MGM
Region 1 - NTSC
Runtime
1:54:36
1:54:36
Video

1.78:1 Original Aspect Ratio 16X9 enhanced
Average Bitrate: 8.36 mb/s
NTSC 960X540 29.97 f/s

1.78:1 Original Aspect Ratio 16X9 enhanced
Average Bitrate: 8.37
NTSC 960X540 29.97 f/s

NOTE: The Vertical axis represents the bits transferred per second. The Horizontal is the time in minutes.

Bitrate:

MGM

Bitrate:

MGM SE

Audio
English (Dolby Digital 2.0 Stereo), French (Dolby Digital 2.0 Stereo), Spanish (Dolby Digital 2.0 Mono)

English (Dolby Digital 2.0 Surround), French (Dolby Digital 2.0 Surround)

Subtitles
English, Spanish, French and none
English, Spanish, French and none
Features
Release Information:
Studio: Mgm/Ua Studios


Aspect Ratio:
Widescreen anamorphic - 1.78:1

Edition Details:

• Color, Closed-captioned, Widescreen
• Theatrical trailer - widescreen anamorphic 2:25
• Widescreen anamorphic format


DVD Release Date: November 6, 2001
Keep Case

Chapters 16


Release Information:
Studio: MGM/UA Video


Aspect Ratio:
Widescreen anamorphic - 1.78:1

Edition Details:
• Color, Closed-captioned, Widescreen
• Commentary by Gary Sinise
• Theatrical trailer - widescreen anamorphic 2:25
• 2 brand-new featurettes

The Making of... (5:00)

• Deleted scenes with director (Gary Sinise) commentary
• Screen and makeup tests (7:00)
• Widescreen anamorphic format

DVD Release Date: March 4, 2003
Keep Case

Chapters 16
| | |
| --- | --- |
| Comments: | Well, I can't t help but feel a little ripped-off... The transfer is EXACTLY the same (see bitrates) - still a wonderful transfer, but I was expecting a slight upgrade. Chapter stops - exactly the same... subs-languages- exactly the same. The Commentary is great, BUT in my disc I can't even access the flip side for these other supposed extras. ??!! It is gold instead of silver ...What's up with that ? |
---



DVD Menus
(MGM R1 - NTSC Left vs. MGM - SE R1- Right)
| | |
| --- | --- |
| | |
| | |
| | |
---
Screen Captures
(MGM R1 - NTSC TOP vs. MGM - SE R1- BOTTOM)
---
(MGM R1 - NTSC TOP vs. MGM - SE R1- BOTTOM)
DVD Box Covers

Distribution

MGM

Region 1 - NTSC

MGM
Region 1 - NTSC
---

---
Report Card:
| | |
| --- | --- |
| Image: | - |
| Sound: | - |
| Extras: | MGM SE |
| Menu: | MGM (original) |




Gary Sinise' - Of Mice and Men - DVD Review John Malkovich Gary Sinise Of Mice and Men DVD Review John Malkovich Gary Sinise Of Mice and Men DVD Review John Malkovich Gary Sinise Of Mice and Men DVD Review John Malkovich Gary Sinise Of Mice and Men DVD Review John Malkovich Gary Sinise Of Mice and Men DVD Review John Malkovich Gary Sinise Of Mice and Men DVD Review John Malkovich Gary Sinise Of Mice and Men DVD Review John Malkovich Gary Sinise Of Mice and Men DVD Review John Malkovich Gary Sinise' - Of Mice and Men - DVD Review John Malkovich Gary Sinise Of Mice and Men DVD Review John Malkovich Gary Sinise Of Mice and Men DVD Review John Malkovich Gary Sinise Of Mice and Men DVD Review John Malkovich Gary Sinise Of Mice and Men DVD Review John Malkovich Gary Sinise Of Mice and Men DVD Review John Malkovich Gary Sinise Of Mice and Men DVD Review John Malkovich Gary Sinise Of Mice and Men DVD Review John Malkovich Gary Sinise Of Mice and Men DVD Review John Malkovich Gary Sinise' - Of Mice and Men - DVD Review John Malkovich Gary Sinise Of Mice and Men DVD Review John Malkovich Gary Sinise Of Mice and Men DVD Review John Malkovich Gary Sinise Of Mice and Men DVD Review John Malkovich Gary Sinise Of Mice and Men DVD Review John Malkovich Gary Sinise Of Mice and Men DVD Review John Malkovich Gary Sinise Of Mice and Men DVD Review John Malkovich Gary Sinise Of Mice and Men DVD Review John Malkovich Gary Sinise Of Mice and Men DVD Review John Malkovich Gary Sinise' - Of Mice and Men - DVD Review John Malkovich Gary Sinise Of Mice and Men DVD Review John Malkovich Gary Sinise Of Mice and Men DVD Review John Malkovich Gary Sinise Of Mice and Men DVD Review John Malkovich Gary Sinise Of Mice and Men DVD Review John Malkovich Gary Sinise Of Mice and Men DVD Review John Malkovich Gary Sinise Of Mice and Men DVD Review John Malkovich Gary Sinise Of Mice and Men DVD Review John Malkovich Gary Sinise Of Mice and Men DVD Review John Malkovich Gary Sinise' - Of Mice and Men - DVD Review John Malkovich Gary Sinise Of Mice and Men DVD Review John Malkovich Gary Sinise Of Mice and Men DVD Review John Malkovich Gary Sinise Of Mice and Men DVD Review John Malkovich Gary Sinise Of Mice and Men DVD Review John Malkovich Gary Sinise Of Mice and Men DVD Review John Malkovich Gary Sinise Of Mice and Men DVD Review John Malkovich Gary Sinise Of Mice and Men DVD Review John Malkovich Gary Sinise Of Mice and Men DVD Review John Malkovich Gary Sinise' - Of Mice and Men - DVD Review John Malkovich Gary Sinise Of Mice and Men DVD Review John Malkovich Gary Sinise Of Mice and Men DVD Review John Malkovich Gary Sinise Of Mice and Men DVD Review John Malkovich Gary Sinise Of Mice and Men DVD Review John Malkovich Gary Sinise Of Mice and Men DVD Review John Malkovich Gary Sinise Of Mice and Men DVD Review John Malkovich Gary Sinise Of Mice and Men DVD Review John Malkovich Gary Sinise Of Mice and Men DVD Review John Malkovich Gary Sinise' - Of Mice and Men - DVD Review John Malkovich Gary Sinise Of Mice and Men DVD Review John Malkovich Gary Sinise Of Mice and Men DVD Review John Malkovich Gary Sinise Of Mice and Men DVD Review John Malkovich Gary Sinise Of Mice and Men DVD Review John Malkovich Gary Sinise Of Mice and Men DVD Review John Malkovich Gary Sinise Of Mice and Men DVD Review John Malkovich Gary Sinise Of Mice and Men DVD Review John Malkovich Gary Sinise Of Mice and Men DVD Review John Malkovich Gary Sinise' - Of Mice and Men - DVD Review John Malkovich Gary Sinise Of Mice and Men DVD Review John Malkovich Gary Sinise Of Mice and Men DVD Review John Malkovich Gary Sinise Of Mice and Men DVD Review John Malkovich Gary Sinise Of Mice and Men DVD Review John Malkovich Gary Sinise Of Mice and Men DVD Review John Malkovich Gary Sinise Of Mice and Men DVD Review John Malkovich Gary Sinise Of Mice and Men DVD Review John Malkovich Gary Sinise Of Mice and Men DVD Review John Malkovich Gary Sinise' - Of Mice and Men - DVD Review John Malkovich Gary Sinise Of Mice and Men DVD Review John Malkovich Gary Sinise Of Mice and Men DVD Review John Malkovich Gary Sinise Of Mice and Men DVD Review John Malkovich Gary Sinise Of Mice and Men DVD Review John Malkovich Gary Sinise Of Mice and Men DVD Review John Malkovich Gary Sinise Of Mice and Men DVD Review John Malkovich Gary Sinise Of Mice and Men DVD Review John Malkovich Gary Sinise Of Mice and Men DVD Review John Malkovich Gary Sinise' - Of Mice and Men - DVD Review John Malkovich Gary Sinise Of Mice and Men DVD Review John Malkovich Gary Sinise Of Mice and Men DVD Review John Malkovich Gary Sinise Of Mice and Men DVD Review John Malkovich Gary Sinise Of Mice and Men DVD Review John Malkovich Gary Sinise Of Mice and Men DVD Review John Malkovich Gary Sinise Of Mice and Men DVD Review John Malkovich Gary Sinise Of Mice and Men DVD Review John Malkovich Gary Sinise Of Mice and Men DVD Review John Malkovich Gary Sinise' - Of Mice and Men - DVD Review John Malkovich Gary Sinise Of Mice and Men DVD Review John Malkovich Gary Sinise Of Mice and Men DVD Review John Malkovich Gary Sinise Of Mice and Men DVD Review John Malkovich Gary Sinise Of Mice and Men DVD Review John Malkovich Gary Sinise Of Mice and Men DVD Review John Malkovich Gary Sinise Of Mice and Men DVD Review John Malkovich Gary Sinise Of Mice and Men DVD Review John Malkovich Gary Sinise Of Mice and Men DVD Review John Malkovich Gary Sinise' - Of Mice and Men - DVD Review John Malkovich Gary Sinise Of Mice and Men DVD Review John Malkovich Gary Sinise Of Mice and Men DVD Review John Malkovich Gary Sinise Of Mice and Men DVD Review John Malkovich Gary Sinise Of Mice and Men DVD Review John Malkovich Gary Sinise Of Mice and Men DVD Review John Malkovich Gary Sinise Of Mice and Men DVD Review John Malkovich Gary Sinise Of Mice and Men DVD Review John Malkovich Gary Sinise Of Mice and Men DVD Review John Malkovich Gary Sinise' - Of Mice and Men - DVD Review John Malkovich Gary Sinise Of Mice and Men DVD Review John Malkovich Gary Sinise Of Mice and Men DVD Review John Malkovich Gary Sinise Of Mice and Men DVD Review John Malkovich Gary Sinise Of Mice and Men DVD Review John Malkovich Gary Sinise Of Mice and Men DVD Review John Malkovich Gary Sinise Of Mice and Men DVD Review John Malkovich Gary Sinise Of Mice and Men DVD Review John Malkovich Gary Sinise Of Mice and Men DVD Review John Malkovich Gary Sinise' - Of Mice and Men - DVD Review John Malkovich Gary Sinise Of Mice and Men DVD Review John Malkovich Gary Sinise Of Mice and Men DVD Review John Malkovich Gary Sinise Of Mice and Men DVD Review John Malkovich Gary Sinise Of Mice and Men DVD Review John Malkovich Gary Sinise Of Mice and Men DVD Review John Malkovich Gary Sinise Of Mice and Men DVD Review John Malkovich Gary Sinise Of Mice and Men DVD Review John Malkovich Gary Sinise Of Mice and Men DVD Review John Malkovich