"If there is a verb meaning 'to move harmoniously' it should be used here…"(1)
Tran Anh Hung has directed three feature films and two short films in a little over ten years. He is presently the most globally acclaimed director of Vietnamese descent. His films have won him international praise and awards, including a "Golden Lion" (best film at the Venice Film Festival), a "César" (best first film) and an "Academy Award nomination" for best foreign film.
At age 12 in 1974, Tran moved with his parents to Paris, France from Danan, Vietnam. He is very proud to have benefited from his Vietnamese roots, as well as other international influences. He is, however, especially aware of how exposure to diverse cultures has continued to enhance his role as both screenwriter and director. He has stated, "I adore American painting, German music, Japanese cinema and literature, Vietnamese contemporaries work and Italian cuisine."(2) On the set, Tran communicates to his cast and crew by quickly shifting languages from Vietnamese to French to English with seemingly little difficulty.
Being exposed to and loving classic films, Tran indicated the immense effect they had upon spurring his film-making desires. Admittedly, Bergman, Tarkovsky and Kurosawa all had a hand in the evolution of his directorial aspirations (3).
After two well-received short films, "La Femme Mariee De Nam Xuong" (1988) and "La Pierre De L'Attente" (1990), his career exploded onto the international scene with his first feature production, "The Scent of Green Papaya" (1993). This production was filmed not in Vietnam but in a studio in Paris, of which Tran remarks on this and his Parisian upbringing, "…but my sensibility is not French; it's deeply Vietnamese." This is reflected in each of his feature films, which show a uniform theme of strong Asian cultural values, including family respect, bonding and commitment. These familial characteristics reveal themselves in the final scene of each of his films.
In "The Scent of Green Papaya" Tran floats his camera through windows and over walls. He also brushed vibrant green foliage in some extremely elegant and painstakingly thought-out choreographed scenes. This transparent fluidity served as a constant backdrop to, and effectively put its blessing upon, Tran's clever blend of gentle classical and soothing traditional Vietnamese music reflecting the naturalistic purity of the surrounding scenery. Tran cued our emotional responses with comparisons using glimpses of frogs, plants, insects, fruit and birds that were often in the rain. These scenes were against corresponding shots of vertical lines, on railings, windows and doors, as well as shirts and furniture. This proposed a subtle incongruence of man versus the natural world -- an evident sub-theme of his film.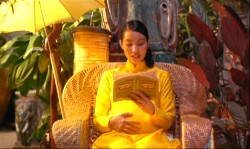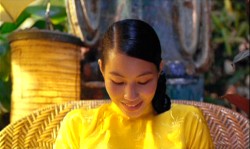 Taking place in the 1950's and early 1960's, the story of "The Scent of Green Papaya"' is similar to the simple, yet deeply revealing characteristics of a profound quotation. It starts as a 10-year-old servant-in-training, named Mui, arrives at the family home of her new employers in Saigon. The story is all about her life. The viewers see her experiences and can feel some of her naive, innocent and wholesome view of life through her wide, expressive eyes. In her decade-long term as their dutiful servant, she witnesses the heartbreak of abandonment by the family's restless father. In addition, she observes and learns from a gentle, grandfatherly neighbour the ability to love from a distance. The audience sees constant juxtapositions of characters that cruelly shun nature while Mui is amused and comforted by their existence. In an extension of placid Asian philosophy, Mui's quiet observances lead her from her second family home to an evolving one of her own, as she herself enters the 'Circle of Life'.
Tran also included some subtle political connections. Twice he imposed the sound of a screeching overhead jet-plane incidentally marking dire circumstances for the family unit (4). Along with unexplained references to a "curfew", this was obviously alluding to the dividing Vietnamese north and south conflict from1954 to 1975. While many films about or from Vietnam deal with the imposing spectre of war that has ravaged that country, Tran only alluded to this aspect of the identity of his birth place using his personal brand of delicate and subtle references. Without submerging his viewers in the topic, Tran simply indicated his awareness.
Similar to his lead character Mui, Tran proved poignant and observant, as well as gentle and lyrical in his hushed method of storytelling. "The Scent of Green Papaya" is as subtle as it is beautiful, ending with the recognized pregnancy of Mui, imminently producing a new family unit on the horizon.
In total opposition to his first film, Tran created a brutal and harsh story of the effects of violence and poverty on a struggling family in the city of Saigon. "Cyclo", which was made in 1995, follows the impoverished life of a young bicycle-taxi driver. The viewers learn that his parents are both deceased, and he ekes out a living with his sisters and grandfather. They struggle to survive surrounded by a turbulent pervading atmosphere of drugs and organized criminal activity. For social advancement the older sister, played by Tran's wife, Tran Nu Yên-Khê, prostitutes herself through a pimp, known only as the "poet" who is played by actor Tony Leung Chiu Wai. The audience witnesses her tragic, forced degradation as they are given glimpses of highly non-glorified, sexual rituals of perversity.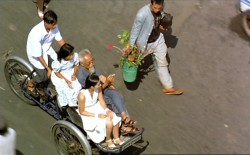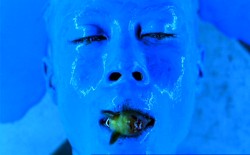 The critically acclaimed "Cyclo" and its extreme artistic nature detail plot circumstances by visual inference rather than through obvious conversation and blatant repetition. Tran Anh Hung was not averse to showing the urban decay of his birth country and did so in a pseudo-documentary style with minimal dialogue. Images of the streets of Ho-Chi-Min-City are rife with nefarious activity, blatant poverty, and black-market dealings. Tran's non-judgmental story allowed the camera's vision to shape the audience's opinions.
Regardless of the harrowing events that happen to the family members, the final scene of them riding in a cyclo together seems to transfer the events that they have come through into a warm-hearted finale. This family of survivors still remains intact and together, perhaps realizing what they indeed still have. It is a brief final scene but a poignant one. It is one of the most memorable of Tran's limited ouvré.
The year 2000 brought Tran's most contemporary relationship drama, entitled "The Vertical Ray of the Sun" in North America and "At the Height of the Summer" in Europe (taken from a Japanese poem (5)). Surrounding the romantic entanglements of three sisters over the course of one month, it begins with the traditional Asian celebration of the anniversary of the deceased mother's birth, and ending with that same event for the father, by coincidence, exactly thirty days later.
"The Vertical Ray of the Sun" is my favourite of Tran's three films. It is filled with strong performances by four supporting cast members, who have worked with Tran previously. His beautiful wife, Tran Nu Yên-Khê, stars again in this production following her challenging role in "Cyclo". She is strongly backed by fellow actors, Nhu Quynh Nguyen, Ngoc Dung Le, and Manh Cuong. More so than in his previous two efforts, Tran used constant juxtapositions of coincidental events similar to many films of Polish director, Krzysztof Keislowski (6). In one scene, the male twin breaks a moment of pretence with his youngest sister by stating his desire for "sweet boiled potatoes". In the next scene, the middle sister at her home is peeling them for her husband.
The film can be slightly confusing on a first viewing. There are a myriad of simultaneous events with multiple character relationships, including infidelity with the eldest sister's marriage, suspected adultery in the middle sisters, and the blossoming romance and naiveté of the third. The soundtrack, including Lou Reed and Trinh Con Son's wonderful Vietnamese folk songs, plays in perfect balance to the gentle expression of imbued sophistication portrayed on the screen. "There are always three types of music in my work", Tran states. "American, which is something that touches me personally in my own life and which we cannot escape from; there's Vietnamese music and then there's the music composed for the film" (7). "Vertical Ray…" was filmed with exquisite bright colours by "In the Mood For Love" and "Flowers of Shanghai" cinematographer, Mark Lee Ping-Bin.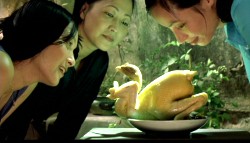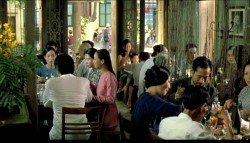 Tran's ability to express and examine a storyline has appeared to have reached its zenith with "Vertical Ray of the Sun". It remains an artistic and emotional masterpiece critically unrecognized as a highly transcendental work with great potential for visual and paradoxical interpretation. The film ends with the twin brother and sister departing for the deceased father's birthday celebration. The viewers have already witnessed the preparation of traditional dishes, sing-alongs, prayers and familial camaraderie at the mother's banquet. In the finale, the audience is left to envision the imminent feast at the analogous get-together for the father. After all that has transpired in their personal lives, they are still a family, and will rejoice and celebrate that fact together once again.
In these first three films, Tran Anh Hung emerged as one of the strongest Asian cinematic presences in the last decade. It is tempting to compare his work to the equally remarkable artistic endeavours of Hsiao-Hsien Hou, Ming-Liang Tsai and Edward Yang. A fair argument could be made that the meticulous composition of his visuals exceeds these three contemporaries. We also note that Tran culminates his films on an optimistic note, as demonstrated in his consistent celebration of the family unit -- a fact that sets him apart from his fellow directors.
Tran already seems able to transverse the lines between graphic violence ("Cyclo"), innocence ("Scent…") and tender compassion ("Vertical Ray…"), while still enhancing his celluloid canvas in rich, graceful images.
Although growing up in Paris, Tran has indicated, "I still feel deeply Vietnamese"(8). His films celebrated the joys of the colonial charm of Hanoi and the horrors of street existence in Ho Chi Min City. Unfortunately, his efforts to film "Cyclo" in Vietnam were fraught with red-tape. In a country where only a handful of (state-funded) films are made each year, censorship by the government is an everyday issue. Tran nevertheless persevered and overcame the odds to allow a modernistic view, although Cyclo sadly has never been shown in Vietnam. In his following feature, he was able to shoot in other Vietnamese locations, including the placid harmony of the Bay of Halong, where many of the most scenic shots of "Vertical Ray of the Sun" were filmed. Even depicting a typical monsoon rainstorm with overflowing water levels in the street is celebrated as a charming and an acceptable occurrence for the residents.
Aside from his diversity, Tran also exhibited many consistencies. Harkening back on his own personal experiences, he had left yet another fingerprint on his three films; all of his major male characters were involved in the arts. The pianist and composer beau of 'The Scent of Green Papaya', the poetry and hallucinogenic artistry of both main characters of "Cyclo", and in "Vertical Ray of the Sun", both sister's spouses are artists, one being a writer, the other a photographer. Included in that is the younger brother in "Vertical Ray…" , who makes his living as an actor. "Cyclo" and "Scent" also question the bond between father and son, while "Vertical Ray…" alludes to the existing respect and allegiance to the parents. Tran states. "That is Asiatic. The notion of the individual is very different than in the West. The individual doesn't exist alone. Even the way we are named is different... Tran is my first name because family comes first."(9)
His next film, is entitled 'Je viens après la pluie' ('I Will Come After the Rain' or 'Night Dogs' - working title from the Kent Anderson novel.). Hopefully, it will release later this year in 2003. At only 40 years of age, Tran has a long career in front of him -- a fact which his fans, both future and past, will no doubt relish.
Gary W. Tooze (Support and advice from Trond Trondsen)
Family gathering in The Vertical Ray of the Sun Quiet on the set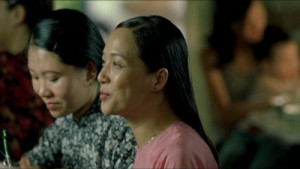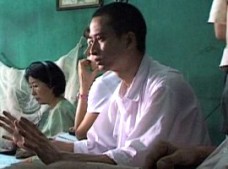 -----------------------------------------------------------------------
© DVDBeaver.com, May 2003
------------------------------------------------------------------------
1. Spoken by the character of Mui while practicing reading in the final scene of "The Scent of Green Papaya"
3. From a translation of the 'Film Up' review of Sandro Mattana found HERE.
4. Specifically I'm referring to the presumed death of the mother in "The Scent of Green Papaya" in the scene where Mui is leaving her employ after 10 years. We see her collapse into Mui's arms just as we hear the sound of a jet plane passing overhead.
5. From a Laura Phipps interview from indieWIRE located HERE
6. On the Artificial Eye "Tri-Colour: Bleu" DVD is a 7:30 minute feature, where Krzysztof Kieslowski takes the audience through a single scene from "Blue", and discusses the importance and constant use of "coincidence" in his films with specific reference to "Blue" and "The Double Life of Veronique".
7. From an interview with Jason Wood entitles "A Quick Chat with Tran Anh Hung" found HERE.
8. Translation from a German interview with Klaus-Peter Eichele found HERE
9. From a June 13th, 2001 interview about "Vertical Ray of the Sun" with "The Movie Chicks" located HERE.
------------------------------------------------------------------------
Filmography
La Femme Mariee De Nam Xuong - (1988) - Short
La Pierre De L'Attente - (1990) - Short
The Scent of Green Papaya (1993)
... aka L' Odeur de la papaye verte (1993)
... aka Mui du du xanh (1993)
Cyclo (1995)
... aka Xich lo (1995)
Vertical Ray of the Sun (2000)
... aka À la verticale de l'été (2000)
... aka At the Height of Summer (2000)
... aka Summer Solstice, The (2000)
... aka Mua he chieu thang dung (2000)
Je viens après la pluie (2003) -unreleased aka Night Dogs
------------------------------------------------------------------------
Additional Resources
Guy Ferrandis, short film, "Mekong Off" about Tran Anh Hung and the making of "At the Height of the Summer", Lazennec Films
Art and Culture
Short article.
---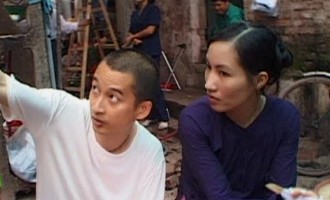 Tran on the set of 'Vertical Ray' directing wife, actress Tran Nu Yên-Khê
Filmography
La Femme Mariee De Nam Xuong - (1988) - Short
La Pierre De L'Attente - (1990) - Short
The Scent of Green Papaya (1993)
... aka L' Odeur de la papaye verte (1993)
... aka Mui du du xanh (1993)


Cyclo (1995)
... aka Xich lo (1995)

Vertical Ray of the Sun (2000)
... aka À la verticale de l'été (2000)
... aka At the Height of Summer (2000)
... aka Summer Solstice, The (2000)
... aka Mua he chieu thang dung (2000)

Je viens après la pluie (2003) -unreleased aka Night Dogs


UP
---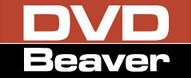 ---